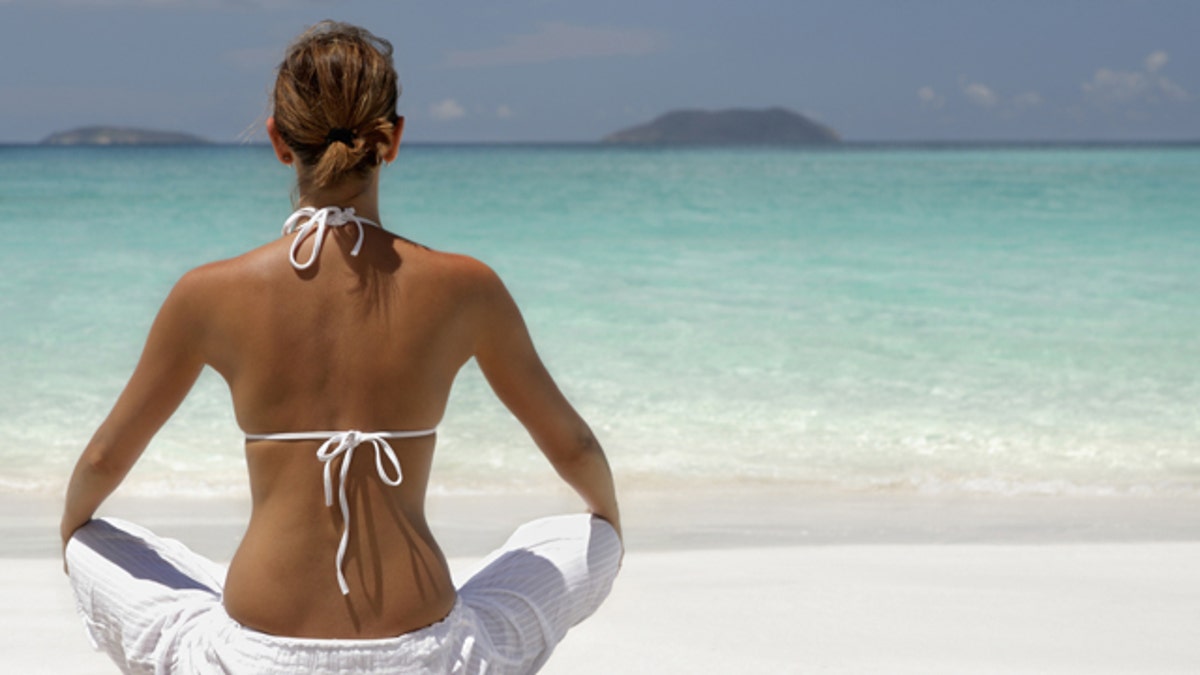 A couple of yoga sessions a week could help ease sleep problems and other effects of menopause, a study suggests.
The study, reported in the journal Menopause, included postmenopausal women diagnosed with insomnia.
"We are not saying that yoga can cure postmenopausal symptoms," Dr. Helena Hachul, one of the study authors, wrote in an email to Reuters Health. "But it can improve and relieve them."
Hachul and her colleagues randomly assigned 44 women to one of three groups. Fifteen had no treatment, 14 did stretches with a physical therapist twice a week and 15 participated in yoga classes twice a week.
The yoga sessions included a variety of stretching positions and Tibetan techniques used for strong and fast breathing.
After four months, women in the yoga group reported fewer menopause problems than those who did nothing.
Women often experience hot flashes, night sweats, anxiety, and irritability during menopause, and some have trouble sleeping or feel down. Hormone replacement therapy eases many of those problems, but comes with risks of heart disease, stroke and breast cancer, according to the Women's Health Initiative study from 2002.
Since then, fewer women are taking hormones and many have looked to alternative methods of dealing with their problems, including taking herbs such as black cohosh and red clover for hot flashes. But one study found those remedies are no better than dummy pills.
Homeopathic treatments such as evening primrose oil, ginseng, kava, licorice, or sage, have also been a disappointment, according to the North American Menopause Society.
By contrast, research has shown that yoga reduces stress levels and curbs the activity of the sympathetic nervous system's "fight or flight" response, the body's reaction to threat or danger.
"This is part of the accumulating evidence that shows the benefits of yoga," said Cathryn Booth-LaForce about the latest findings.
"Doctors are starting to recommend yoga, not just for menopause, but for a variety of conditions," added Booth-LaForce, who studies alternative therapies for menopause at the School of Nursing at the University of Washington but was not part of the new study.
She cautioned that key information was missing from Hachul's report, however.
"I'm concerned that there's almost no description of the yoga positions used or how many people completed all the sessions."
In the study, women completed questionnaires before and after they received treatment.
One questionnaire rated menopause symptoms from 0 to 18 as mild, 18 to 35 as moderate and 35 and over as severe. After four months, women who practiced yoga had an average score of 12.4, while women who had no treatment, had a score of 19.9.
On a sleep questionnaire from 0 to 28, with 28 being the most severe insomnia, the yoga practitioners had an average score of 9.7, while those with no treatment scored 13.7.
However, there weren't any clear differences between women who did stretches and those who did yoga.
"Lying on a table and getting stretched may have helped with relaxation," Booth-LaForce told Reuters Health. "But yoga is about focusing on what you're doing and connecting the mind and body. That's a lot more than having your limbs stretched."
Booth-LaForce encourages women to take up yoga and recommends taking a restorative or gentle yoga class.
Yoga classes typically cost from $9 to $16.
"I would suggest women take a yoga class a week, and then try to practice yoga 15 minutes a day at home," Booth-LaForce said.