Women faced hasty surgery, dirty clinics in India sterilization drive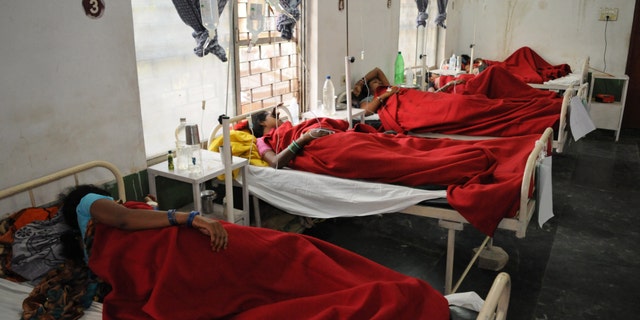 The scene in the gloomy room where 83 women were sterilized last weekend is repeated routinely at makeshift contraception clinics across India: bloodstained sheets that aren't changed between patients, and hasty two-minute surgeries.
Only this time, something went tragically wrong.
More than a dozen of the mostly poor and illiterate villagers operated on by Dr. R.K. Gupta have since died, and scores remain sick in hospital, many of them in intensive care.
Interviews with police, doctors and government officials reveal that Gupta broke government guidelines by performing more than 30 surgeries in a day.
But his pace of 83 operations in 2 hours and 35 minutes was not unusual in a country that sterilized 4 million people last year, almost all of them women.
A police case against Gupta for causing death by negligence has been filed in the eastern Indian district of Bilaspur, 100 km north of Raipur, the state capital of Chhattisgarh.
In comments to Indian media, he has denied committing any errors. Reuters calls to his telephone went unanswered.
India is the world's top sterilizer of women, and efforts to rein in population growth have been described as the most draconian after China. Indian birth rates fell in recent decades, but population growth is among the world's fastest.
Rights groups call its sterilization program, which is run by state governments, coercive, because ill-educated women are often offered money and accept surgery by officials pressed to meet quotas without knowing the full risks.
Rural sterilization camps are run in conditions that elsewhere in the world would be shocking: surgical equipment is often unsterilized, needles can be reused dozens of times and patients sometimes recover from operations on dirty floors.
"Unless there is a serious attitude and culture change then I can see this happening again," said Kerry McBroom, director of the Reproductive Rights Initiative at the Human Rights Law Network in New Delhi.
HOSPITAL RENTED FOR DAY
Working from the bare and cobwebbed room, Gupta made a quick incision in his patients' abdomens and cut, then tied, their fallopian tubes. Two nurses moved the patients to a second bed for stitches, and then they were led out of the room, groggy with anesthetic, said police inspector S.N. Shukla, who is leading the investigation into the case.
Shukla said preliminary investigations suggested that either contaminated equipment or adulterated medicines were to blame for the deaths of the women, who doctors say showed signs of toxic shock.
"Why was the room not cleaned before the procedure was started?" Shukla said. "We are also questioning the doctor to check if he was prepared to handle so many cases and did he have all the necessary equipment to tackle any emergency situation?"
There was no time even to change the sheets on the two beds in a private hospital that had never been used before but was rented for the day by the state government.
The women at the camp were invited by health workers and offered a 1,400 rupee ($22.80) fee. Once there, the doctor gave them four medicines.
"My wife did not inform me or anyone in the family that she was undergoing an operation," said Ramavtar Suryavanshi, 42, whose wife vomited for hours before dying. "She was taken to the hospital by a health worker who told her she would get money."
Suryavanshi is left with five children, the youngest three months old.
About half of Indian couples use some form of contraception. Of those, more than three quarters rely on having the wife sterilized, according to the United Nations.
"NOBODY FOLLOWS PROTOCOL"
The top official in India's Health Ministry, Lov Verma, said an investigation had been ordered into the incident but denied there were problems with the wider program."If the protocols are followed then we will not see a recurrence," he told Reuters.
The protocols state that doctors should spend at least 15 minutes on each operation and perform a maximum of 30 in a day. Several doctors told Reuters it was common to perform up to 90 sterilizations a day.
"If a doctor follows the guidelines ... he will never be able to meet the target," said Dr. K.N. Choudhary, an associate professor at Chhattisgarh Institute of Medical Science, where several survivors are being treated.
The national government abandoned quotas two decades ago, but states are free to pursue their own policies. In Chhattisgarh, the goal last year was to perform 165,000 female sterilizations and 26,000 vasectomies.
The targets are not cast in stone, but health workers say they come under pressure to meet them.
The state's urgency to meet its targets is clear. On Monday, another sterilization camp was run in Bilaspur. More than a dozen women were taken ill.