Woman Who Was 'Face' Of Obamacare Campaign Had Trouble Enrolling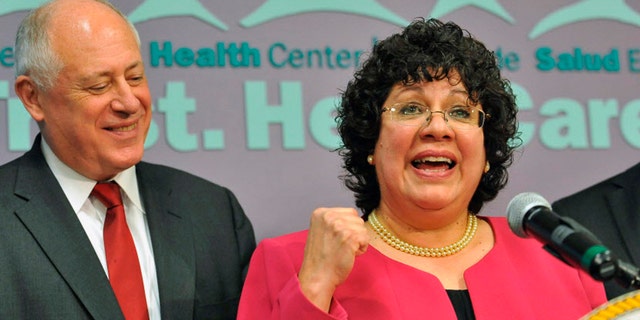 NEWYou can now listen to Fox News articles!
CHICAGO (AP) – Celeste Castillo, a Guatemalan immigrant, was invited to a news conference with Illinois Gov. Pat Quinn and Health and Human Services Secretary Kathleen Sebelius early last year to help promote enrollment in the country's new health insurance marketplaces.
From the podium, the U.S. citizen excitedly spoke of soon being able to get insurance for the first time under President Barack Obama's health care law.
"I felt so honored to be there that day," Castillo recalls. "They told me I would be the face of the campaign."
Fourteen months later, the 57-year-old nanny was still uninsured until The Associated Press contacted the Quinn administration last week. She had first become tangled in computer problems, then was denied by the state's expanded Medicaid program — underscoring how complicated the process has been for many Americans, even one held up as an example of who the law was designed to help.
State officials blame a mistake in how to categorize an $800-a-month gift from Castillo's estranged husband, which they quickly corrected. But it's also ironic that she ran into such difficulties because Latinos were among the groups the Obama administration most coveted for enrollment and fell short in signing up, according to federal figures released last week.
"Every story is unique, but the theme that keeps coming up is how complicated this is," said Jane Delgado, president of the National Alliance for Hispanic Health, a nonpartisan advocacy network.
Castillo, who moved to the United States 38 years ago and speaks English well, was no ordinary consumer; she's a board member at a community health clinic where she has received care on a sliding fee scale because she couldn't afford private insurance and didn't qualify for Medicaid before the health law's expansion. That connection brought her to the attention of the governor's office, which invited her to speak at the February 2013 event.
In October, she started applying for health insurance, wanting to be among the first covered. She was thwarted by website crashes, then by requests for additional paperwork. She worked with several counselors through the fall, winter and into the spring.
The counselors guided her toward coverage through the new expanded Medicaid program.
With an estimated annual income of $19,183 for a two-person household — herself and her 22-year-old daughter, a full-time student — Castillo qualified for expanded Medicaid. But if she made just $211 per month more, she would have needed to buy insurance on the marketplace. She was willing to do that, but went with the advice to apply for Medicaid.
Two weeks ago, she was notified she'd been rejected because of her income. By then, the March 31 deadline had passed for marketplace coverage. She didn't know what to do.
"I thought by now I would be one of the people who would have insurance," Castillo said last week.
An AP reporter, discovering Castillo had been rejected after calling her to discuss Latino enrollment figures, then called a spokesman for the Quinn administration. Hours later, Castillo received a phone call from a lead casework specialist in the Illinois Medicaid office. He assured her a mistake had been made, her application now was approved and that his boss told him to call her right away.
Castillo learned that $800 a month she received from her estranged husband in Panama — his Social Security check — had been counted as part of her income, disqualifying her from Medicaid. That was an error, according to several independent experts interviewed by the AP.
In a reassessment of her case, under rules for the Medicaid expansion established in the Affordable Care Act, the money was determined to be a gift from her husband to help pay for his daughter's college education.
Wayne Turner, staff attorney at the National Health Law Program in Washington, D.C., says the Illinois about-face makes sense to him. The new Medicaid rules allow Illinois officials to consider the husband's contribution a gift because Castillo, while married, files income taxes separately from her husband.
"It's a complex policy that state staff are learning," said Kathryn Nelson, an expert on the new rules who trains enrollment counselors through a University of Illinois program. "Some caseworkers are wrapping their brains around this better than others."
Quinn administration officials said Castillo's story illustrates the complexity of the Medicaid review process.
"In cases where a mistake is made, we work very quickly to correct it," said Quinn spokesman Mike Claffey.
Even after being rejected for Medicaid, a person in Castillo's situation possibly can get marketplace coverage by requesting an enrollment exception, Claffey said.
Castillo said she would have kept pushing to get coverage, despite her frustration. But she said she worries that others might have become too discouraged to try again.
"I'm assuming it wasn't just me," she said.
Follow us on twitter.com/foxnewslatino
Like us at facebook.com/foxnewslatino