Woman who caused Ebola scare at Pentagon admits she made up story about traveling to West Africa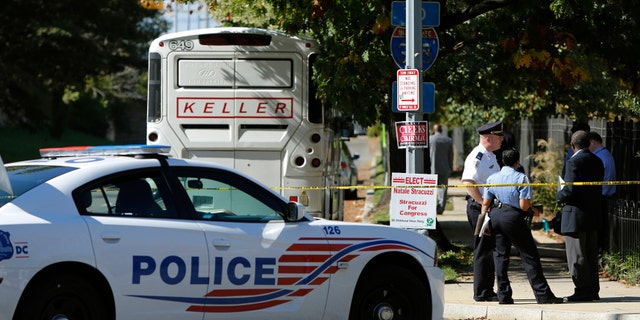 NEWYou can now listen to Fox News articles!
A woman who caused an Ebola scare Friday and caused police to shut down a Pentagon entrance and a portion of the parking lot later confessed to hospital officials she had fabricated a story about recently traveling to West Africa, multiple government sources told Fox News.
At the same time, the Arlington County Health Department issued a statement saying medical authorities were confident she did not have Ebola.
A senior source familiar with the investigation told FoxNews.com that despite what she initially told police officers at the scene, there was no evidence she had recently left the country.
The woman, who got sick and threw up in a parking lot after a bus ride to a military event, was quarantined at INOVA Fairfax Hospital after telling officers she had been in Liberia two weeks ago, Pentagon spokesman Lt. Col. Tom Crosson said.
A military official, speaking on condition of anonymity, said the woman, who has not been named, works for Total Spectrum, whose website says it is a lobbying and public relations firm. Managing Director Steve Gordon told The Associated Press the Pentagon had contacted him, and he claimed the woman had not been out of the Washington area.
The official said the woman was on a Metro bus, and transferred to a shuttle bus taking guests to a ceremony for Gen. Joe Dunford, who is taking over as commandant of the Marine Corps. She got off the shuttle before it left the Pentagon parking lot and then vomited. The official said it did not immediately appear that she was invited to the ceremony.
The statement from the Arlington County Health Department said, "Based on the public health investigation, which included the travel history of a woman who became ill this morning in a Pentagon parking lot, and on questioning of her by medical staff, medical authorities are confident that she does not have Ebola."
It also said, "Arlington County took all necessary precautions to protect public health during this event, including activating its Emergency Operations Center. We are beginning to break down those operations now."
The Associated Press contributed to this report.