Woman in need of second double-lung transplant celebrates dream wedding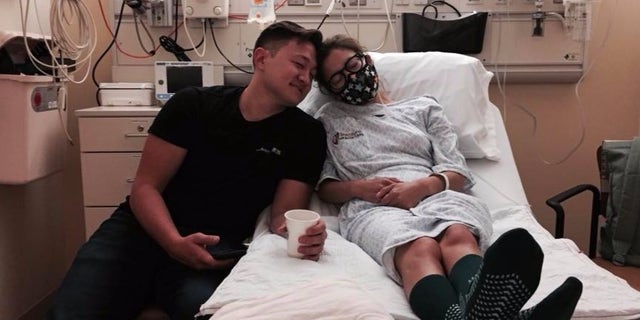 Just one week after being told that she wasn't a good candidate for a double-lung transplant, 27-year-old Caleigh Haber scratched plans to celebrate her engagement to Bryan Takayama, and instead married him in a ceremony focused on making the most of the time that they have together.
"Neither of us wanted to waste a day alive not being all in with one another," Haber, who has cystic fibrosis, told KTVU.
Harber has already undergone a double-lung transplant, but has spent the past several months fighting as her body rejects the donated organs. About a week ahead of the planned Oct. 28 engagement party, Haber had met with her transplant team to discuss her options and was told that she wasn't a good candidate for a second surgery. It was then that she and her fiancé, Bryan Takayama, decided to forego the party and get married instead.
In an Instagram post honoring the day, Haber, who has over 72,000 followers, reposted part of their vows in which she promised to stick by Takayama even when the Ohio State Buckeyes lose, and apologized for not being able to be in his life forever.
WIDOW CLAIMS 9/11 TOXINS GAVE HER TEACHER HUSBAND CANCER
"I'm sorry, my love, that you won't always have me in your life, but I promise you every minute I'm alive I will dedicate myself to you," Haber said. "I will never stop fighting to stay alive. You inspire me to fight harder, to put myself through struggle, to look past chaos, to drink ensures and to take my medication."
As the pair, who met last year at a friend's wedding, scrambled to make arrangements, others stepped forward to cover the cost of a venue, food, Haber's dress, hair and make-up, KTVU reported. They shared their first dance as husband and wife while Jason Mraz's "I'm Yours" played.
"It was a chance for us to intimately share a few moments to a song that holds true importance to us and just for us to be us," Takayama told KTVU.
Haber said she was having trouble breathing near the end of the song, so Takayama picked her up and held her until the end.
A GoFundMe page was set up to send the newlyweds on a honeymoon to Hawaii, which was approved by Haber's doctor as long as a medical team is on-call for the duration of the trip. She is also meeting with other high-risk transplant centers to discuss other therapies that will prolong her lifespan.
"Right now I cannot accept that possibly a second transplant won't happen," Haber told KTVU.