Woman getting new nose and lips after infection caused them to 'fall off'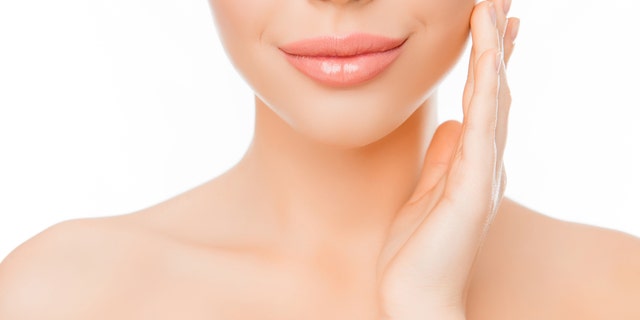 A Chinese woman who lost her nose and lips as a child is cultivating a new set on her chest after they "fell off" her face 25 years ago.
Jin Qi suffered a high fever and a rare sepsis as a one-year-old child in the remote village of Yunxi County, in the city of Shiyan, China which saw her nose and lips become "rotten," "scabby," and eventually they "fell off."
'SECOND SKELETON': WOMAN'S RARE DISEASE TURNING MUSCLE TISSUE INTO BONE
Qi did not have access to medical attention at the time and her face eventually began to crumble, losing not just her nose and lips but the delicate tissue around the area.
"My face was disfigured seriously due to infections when I was child," she said.
"Many people think it is a scald at first sight."
Qi became an internet sensation in China after sharing her life story on Zhihu.com, China's answer to Reddit. When news of her story began to spread, users helped fund $37,500 of her $58,000 miracle treatment.
6-YEAR-OLD DANCER LOSES LEG AFTER STREP THROAT SPREADS INTO INFECTION
She said she had to endure a life of "cruel remarks" and "whispers" and was rejected by high schools and universities because of her face (which you can see here).
"The truth is that I am totally different from other people. I grew up with surprised eyes and many girls walking away and screaming. I think my face makes other people feel fear."
"I suffer a lot because of my face in work and life. Obviously, I can feel the gap between others."
"But this is not something I can change. The only thing I need to do is to perfect myself and to improve myself.""
MAN WHO HAD LEGS AMPUTATED AFTER POSSIBLE SPIDER BITE MAY LOSE ARMS TOO
The hospital treating her even gave her a discount on her operation because the country was so enamored with her story and positive attitude.
"I do not feel inferior, I have a positive attitude to participate in various community activities and get along well with many people at most of the time."
The 27-year-old graphic designer is in for a long haul, however; she underwent her first 10-hour surgery to restore her face at Ninth People's Hospital in Shanghai on April 10, but she won't see any results for six months as her new organs grow on her body.
CASES OF BRAIN-INFECTING WORM ARE SPIKING IN HAWAII
The rehabilitation and reconstruction, lead by Li Qingfeng, has been described as "revolutionary," because it allows someone to grow their own organs instead of relying on other technology.
Once the new skin and tissue is fully grown, they will then be transplanted onto her face. She will then undergo more surgeries to "fine tune her facial features."
Surgeons call the technique "tissue expansion therapy," and describe a "five step," surgical program to complete Qi's missing face.
"Monday's surgery aimed to expand the flap and correct maxillary deformities," the surgeons said, according to Xinhua.
WOMAN DONATES KIDNEY TO TWIN SISTER AFTER ROGUE STREP INFECTION
Doctors told the Shanghai Daily that despite having completed 42 successful expansion therapies in the past, Qi's case was rare because her deformation happened at such a young age.
"It's harder to create the nose and lips compatible to her face than in the cases of most of our adult patients because her facial bones and soft tissue have become enormously deformed over the years," Zhu Ming, a doctor on the team responsible for treating Jin, told the publication.
"The patient will have a larger than normal nose after the entire first phase of treatment is finished, and then we will 'fine tune' her facial features," she said.
Qi packed up her life in the city of Shenzhen, described as a modern metropolis in southeastern China, and moved to Shanghai while she undergoes treatment. She thanked her boyfriend for sticking around and said the pair are "planning to save more money."
FOLLOW US ON FACEBOOK FOR MORE FOX HEALTH NEWS
She said she doesn't know how she'll feel after the surgery but she "doesn't have any regrets".
"Sometimes, I think there will be no difference with the surgery or not. Life is tough anyway, as long as you can make yourself better within your own abilities."
"This is life and I do not have regrets."
First published on news.com.au.