Widow gives birth to stillborn son after husband killed by drunk driver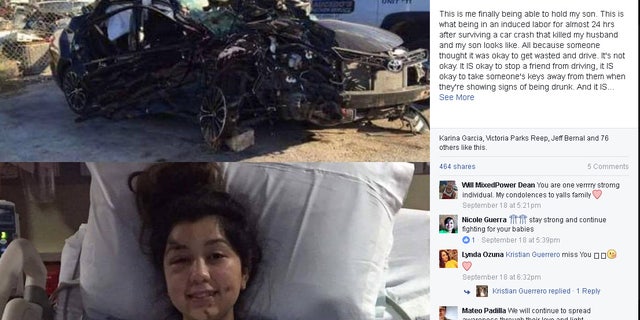 NEWYou can now listen to Fox News articles!
Everything was going right for Kristian Guerrero. She was married to an "amazing" man, Fabian, with whom she was expecting a child this December. Then came the unthinkable: While driving in San Marcos, Texas, on Aug. 2—the same day Fabian's US residency was approved, per Inside Edition—the couple was hit by an alleged drunk driver and Fabian was killed instantly.
After nearly 24 hours of induced labor, Guerrero gave birth to a stillborn baby boy, reports Us Weekly. Seven weeks later, the 24-year-old has vowed to "share this story until the day I die in hopes it prevents anyone else from feeling the pain I walk around with every day," she writes on Facebook.
There, she shared an image of her totaled car and a photo of her holding her dead son as a counterpoint to the beautiful wedding photos that have been publicized in the wake of the crash.
"I wanted people to see the hurt, the pain and all the damage," she tells Us Weekly. "I'm living a nightmare." While continuing to study for her cosmetology license—something her husband pushed her to do—Guerrero is urging people not to drink and drive and to stop anyone who might drive while intoxicated.
"I feel like there's a reason why I didn't die that day," says Guerrero, who suffered a brain bleed in the crash, per the Houston Chronicle.
"I refuse to let my husband and my son's deaths be in vain." Guerrero adds she hopes to one day convey her despair, face-to-face, to the woman allegedly responsible.
Texas State University student Shana Lee Elliott, 21—who police say spent the day of the crash drinking and tubing on a river—is charged with intoxication manslaughter and intoxication assault with a vehicle.
(An MMA fighter's toddler son was allegedly killed by a drunk driver.)
This article originally appeared on Newser: She Was in Love and Expecting. Now She's 'Living a Nightmare'