White House On Desperate Push To Get California Latinos Enrolled In Obamacare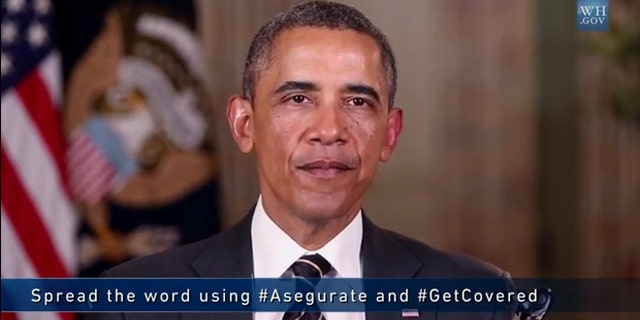 California has 15 percent of the country's population not covered by health insurance who are eligible to enroll for Obamacare. But, as in other states with large Latino populations like Texas and Arizona, enrollment problems have plagued the state's health care insurance exchange. To date, less than 20 percent of those who have signed up on Covered California are Hispanic.
Almost half of all Latinos in California are eligible for subsidies and tax credits under Obamacare.
"For the Affordable Care Act to work, everyone needs to get in," Covered California's executive director Peter Lee told the New York Times. "We're absolutely doubling down."
How so? The group is adding 250 representatives, including more Spanish speakers, this week in a push to get many more Latinos — a demographic that skews younger than the country as a whole. According to BusinessWeek, another 100 will be hired by the end of the open enrollment period on March 31.
And Covered California isn't the only entity scrambling to drum up Latino enrollees. On Thursday, the White House released a video message from President Obama encouraging Hispanics to sign up for health care under the ACA.
"If you're one of the millions of Americans, including more than 10 million Latinos," Obama said in the clip, "who doesn't have health insurance, you should check out" the federal websites. "Nearly 6 in 10 Americans could be covered for less than a hundred dollars a month," Obama adds, even using some Spanish to implore people who are already insured to "think about someone you know who needs to hear this news — tu familia, tus amigos, tus vecinos."
Earlier this week a group of government officials — including White House Domestic Policy Council director, Cecilia Muñoz, Mayra Alvarez, the associate director of the Office of Minority Health, Katherine Vargas, White House director of Hispanic media, and Rep. Joaquín Castro (D-Texas) — held a conference call for reporters touting the administration's outreach efforts.
"It's important that people in the community know that the vast majority of eligible Latinos can find affordable health care," Muñoz said.
Even with White House support, Covered California is facing some large hurdles. One is the poor implementation of the federal Obamacare Spanish-language website, CuidadoDeSalud.gov, which has been plagued by delays and translation errors.
Other problems may be less easy to debug. One big issue is that the law requires that those seeking coverage provide the immigration status of members of their household to determine eligibility.
"A lot of people, new immigrants to this country, have a mistrust of government, particularly when they see families being divided and deported," Daniel Zingale, senior vice president at the California Endowment, a Los Angeles-based health foundation, told BusinessWeek.
Kathleen Sebelius, Department of Health and Human Services secretary, has been stressing that people have nothing to worry about, last month telling the audience of an interactive Google Hangout sponsored by advocacy group Voto Latino: "At the front of the website, people will be asked about their legal status, but that's primarily because you won't be entitled to a tax credit if you aren't a legal resident." She added: "That [information] is totally secure, totally private. We have verification from the ICE folks that they intend to keep it very much that way."
That message may not be getting out. Ellen Wu, the executive director of the California Pan-Ethnic Health Network, told the Times, "We hear all the time of families where one parent could help their children enroll, but they fear that the information is going to be sent to immigration authorities."
Follow us on twitter.com/foxnewslatino
Like us at facebook.com/foxnewslatino