Where people get legs lengthened on the cheap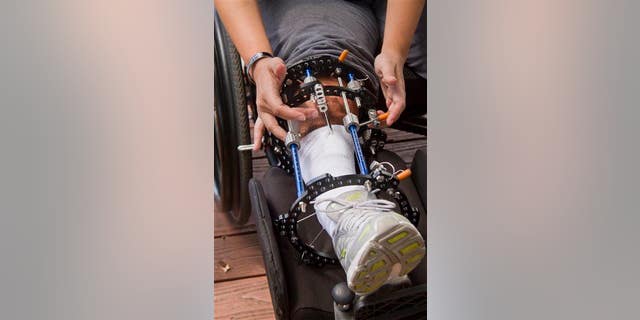 Wish you were a little taller? Well, doctors in India have been lengthening limbs for years at relatively low cost—but the industry is unregulated and the procedure pretty gruesome, the Guardian reports.
For a few thousand dollars, patients have a bone broken in each leg (usually the tibia) and a metal device placed around the lower legs to pull the bone apart and stimulate growth, the Hindustan Times explained last year.
If all goes well, the patient is a little taller (average 2 inches, per the Times of India) a few months later. "I have so much confidence now," says a 24-year-old who had it done.
"I was just 4' 6". People used to make fun of me and I couldn't get a job. Now my younger sister is doing it, too."
But the procedure is hotly debated among orthopedic specialists in India. "This is one of the most difficult cosmetic surgeries to perform, and people are doing it after just one or two months' fellowship, following a doctor who is probably experimenting himself," says a doctor who lengthens limbs in Delhi. "There are no colleges, no proper training, nothing."
Others say the so-called "Ilizarov technique"—named after Polish man Gavriil Ilizarov, who invented it in the 1950s—comes with risks including pain, infection, and paralysis, and should only be done to heal injury or deformity. But in a culture that prizes height, some do it to stand a little taller. And there are foreigners with the same motive. "I'm not even sure my friends will notice I'm taller, but it makes me feel good about myself," says a 26-year-old Texan who increased his height in India by 2 inches, to 5'11".
A good choice? "Yes," he says. "But I'm happy I'm done with it." (In the US, teen girls are opting for labia surgery.)
This article originally appeared on Newser: Where People Get Legs Lengthened on the Cheap
More From Newser