Virginia students wear protective masks to prom to support friend with cancer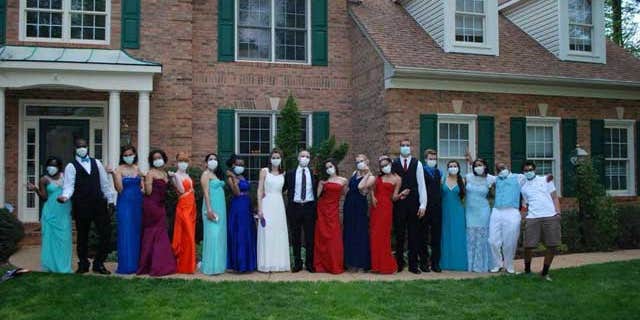 A Virginia high school student wanted to go to his girlfriend's prom, but his doctor told him he had to wear a mask to protect himself from getting sick. What his girlfriend and their group of friends did to make him feel comfortable at the prom will no doubt warm your heart.
The 18-year-old you are about to meet received a cancer diagnosis last September. Chemotherapy wasn't far behind.
As if that wasn't tough enough, especially a teen, his doctor said if he was going to go to the prom, he had to wear a protective mask.
"They had said that I was diagnosed with testicular cancer," said Jared Hill. "It didn't hit me at first until I got home. And then later that night, I tried to sit down and do some English homework and I just couldn't. I started bawling."
Testicular cancer is news no one wants to ever hear. Jared is a senior at Hylton High School in Woodbridge, Virginia.
Chemotherapy became a necessary course of action in Jared's cancer fight, but the treatment compromised his immune system, making him more susceptible to getting sick. So if Jared wanted to take his girlfriend, Emily Jarrell, to her senior prom at Osbourn Park High School, he had to follow doctor's orders.
"I just had to wear a mask at all times and make sure I didn't really make contact with too many other people," Jared said.
That is when Emily and some of her friends had an idea: Everyone in Jared and Emily's prom night group, all 17 of them, would wear protective masks. They were unified for Jared.
"It makes me feel real happy to have such great friends," he said. "For them to do something as big as that for me, that showed a lot of character."
Click for more from My Fox Atlanta.