Video of dad telling son his mother died of heroin overdose goes viral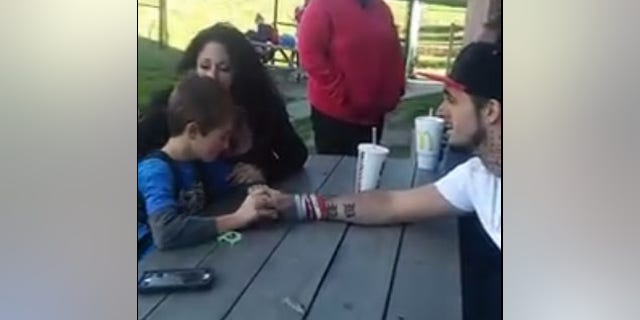 The loss of a parent is hard for children under all circumstances, but one boy in Ohio is reaching people across the country after his father shared a video of the moment his son found out his mother died of a heroin overdose.
Brenden Bickerstaff-Clark, 29, of Youngstown, Ohio, posted the video on Facebook on October 10. It has over 32 million views.
In it, Bickerstaff-Clark is seen sitting across from his 8-year-old son, who wasn't named. He holds the boy's hand and says, "Mommy died last night." His son responds, "What?" "What do you mean, my mom?" The father confirms it and shares that drugs caused his mother, who was not named, to die.
In the video's caption, Bickerstaff-Clark said he recorded the moment for every addict with children.
"Don't let this disease have to make someone tell your child that your dead because of drugs. This was one of the hardest things I've ever had to do. My son has no mother because of heroin... kinda hard to hear but u can hear what we're saying. Please get help so our children don't have to suffer. This wasnt [sic] staged. This was real. I had someone record this so addicts with children can see the seriousness [sic] of our epidemic. I am a recovering addict myself with 94 days clean today... please share n maybe help save a childs [sic] parents life."
The video has both support and criticism from commenters on social media, where some accuse Bickerstaff-Clark of exploiting his young son while others applaud him for sharing the anti-drug message.