'Vampire Woman' Takes Her Love for the Supernatural to a New Level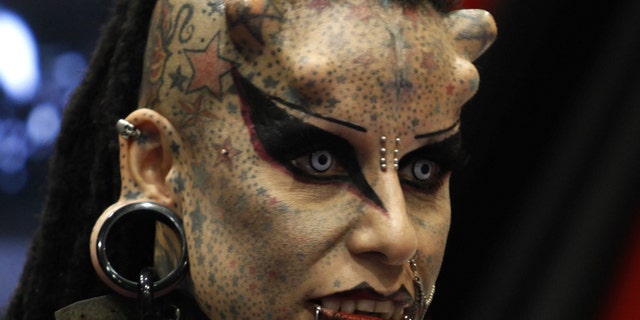 NEWYou can now listen to Fox News articles!
This is the amazing face of "Vampire Woman" Maria Jose Cristerna — who takes the trend for body art to a whole new level.
The Mexican tattoo artist and trained lawyer showed off her look at a tattoo exhibition in the city of Monterrey Monday.
"Tattoos were a form of liberation for me. My family was and is deeply Catholic," Cristerna said. "I studied at a religious school, I fell in love, got married in white at 17, followed a career. I wanted to make things right."
Cristerna, 35, said constant beatings and abuse at home triggered her reinvention and led her to tattoo nearly 100 percent of her body – and that's not all. She also has multiple face piercings and titanium implants to create "horns" under the skin on her temples and forehead.
The mother of four has even had dental implants to create "fangs" to complete her look — but claims to live a "normal life."
"The horns I have are a symbol of strength and were implanted without anaesthetic. I had the fangs done because I loved vampires as a little girl and I changed the color of my eyes so they were how I really wanted them to be," she said.
And her transformation is not yet complete — she plans to have two more titanium implants added to the back of her head.
"Tattooing is my way of being immortal, of really being a vampire and not dying – leaving my work on other people's skin."