Unaccompanied immigrant minors at high risk for trauma, experts say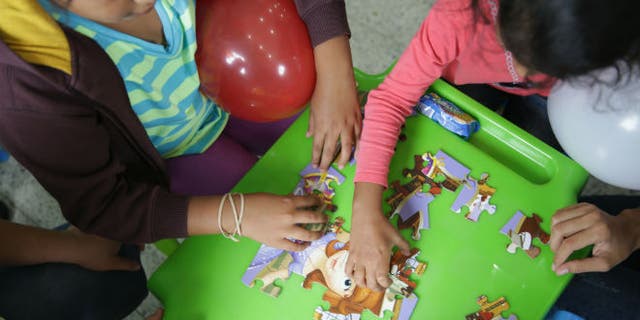 The White House estimates more than 63,000 unaccompanied Central American children have entered the U.S. illegally since October 2013. And according to recent reports, the immigration crisis could be detrimental to these children's mental health.
The National Office of Refugee Resettlement reports many unaccompanied minors are fleeing stressful events in Central America, such as gang violence, abuse and persecution. According to Dr. Uma Segal, professor of social work at the University of Missouri, these types of stressful events can put some immigrants at risk for developing trauma.
Additionally, the journey itself can cause distress. According to research by Dr. Nestor Rodriguez, a sociology professor at the University of Texas at Austin, unaccompanied children who make the journey through Mexico can experience traumatic events such as physical and sexual assault, hunger and kidnapping.
"The migration experience is as harmful and as potentially traumatic as being in a war zone," Rodriguez told FoxNews.com.
The emotional threat to these minors can remain even after they arrive in U.S. The American Psychological Association reports that certain experiences in America, such as assimilation, exploitation, discrimination, and placement in detention facilities, can exacerbate earlier trauma.
"[Unaccompanied minors] have to deal with the loss of family," Segal told FoxNews.com. "There's no buffer between them and the new society. They have no parents to take on the burden of adapting to a new environment."
Rodriguez agreed, adding that recent anti-immigrant rallies, such as the controversial July protest of immigrant buses in Murrieta, Calif., are just one type of event that can emotionally injure unaccompanied minors.
"Some of the children are already scarred, they're confused," Rodriguez explained. "They're more likely candidates to be affected when they see angry people surrounding a bus."
But Dr. Mark Lusk, Human Rights Chair of the National Association of Social Work's Texas Chapter, noted that once immigrants reach America, the worst is usually over.
"Anything they experience here by way of rejection is going to pale in comparison to the violence or threat they were exposed to [in Central America]," Lusk told FoxNews.com. "The more pressing issue for them isn't someone opposed to their presence in the United States – they're thinking there's a dream here they might be able to access."
While emotional vulnerability varies depending on the individual child, experts said that those who are traumatized have probably not begun to feel the extent of the condition.
Dr. Janis Feldman, a volunteer at Sacred Heart Catholic Church's immigrant shelter in McCallen, Texas, said it can take months before immigrants, both accompanied and unaccompanied, exhibit trauma. As a result, the current priority is tending to immigrants' basic human needs, such as shelter, food and medical attention.
"First you help the person pull themselves together. You help them feel safe," Feldman said. "Talking to them about the trauma is counterproductive," because it can cause some immigrants to relive painful experiences, she noted.
If and when the trauma does set in, it can have detrimental effects on an unaccompanied child's quality of life, Segal said.
Additionally, due to economic pressures, unaccompanied minors tend to assimilate into the margins and underbelly of society.
"They owe money to smugglers; they send money back to their families; they're constantly working to eke out a survival quality of life," Segal said.
Such struggles could impact American sponsors.
The Office for Refugee Resettlement reported that 37,477 unaccompanied minors were released to U.S. sponsors from January through July. According to Rodriguez, some of these well-intentioned sponsors could be in over their heads.
"Unless you're trained to deal with post-traumatic stress disorder, the challenge can be pretty substantial," Rodriguez said. Often, traumatized children experience nightmares and will act out by stealing, lying and running away from home.
This mental instability could also hurt Americans' pockets. A 2012 study by The National Center for Biotechnology Information (NCBI) found that trauma healthcare for illegal immigrants is costing the U.S. millions of dollars. Because undocumented migrants are not covered by the Affordable Care Act, the U.S. government compensates trauma centers for the cost of treating these individuals. But the NCBI found these centers are still not receiving enough government funding, even with the compensation.
Still, experts speculate undocumented immigrants, both accompanied and unaccompanied, may not seek medical care out of fear of deportation.
In response to the immigration crisis' potential consequences on these children, some Americans, such as Dan Rose, founder of the anti-illegal immigration organization Americans First, are wondering, "Why isn't the U.S. government pressuring the Mexican government to help these people?'"
"[Mexico] is in a much better position to help these children before they endure a long trek against Mexico to get here," Rose said.
Others believe the immigration crisis should be approached from a humanitarian rather than political angle.
"Some of these kids are being threatened by gang members [in Central America] that the U.S. deported in large scale," Rodriguez tells FoxNews.com. "We have to give back. We're one large human community."