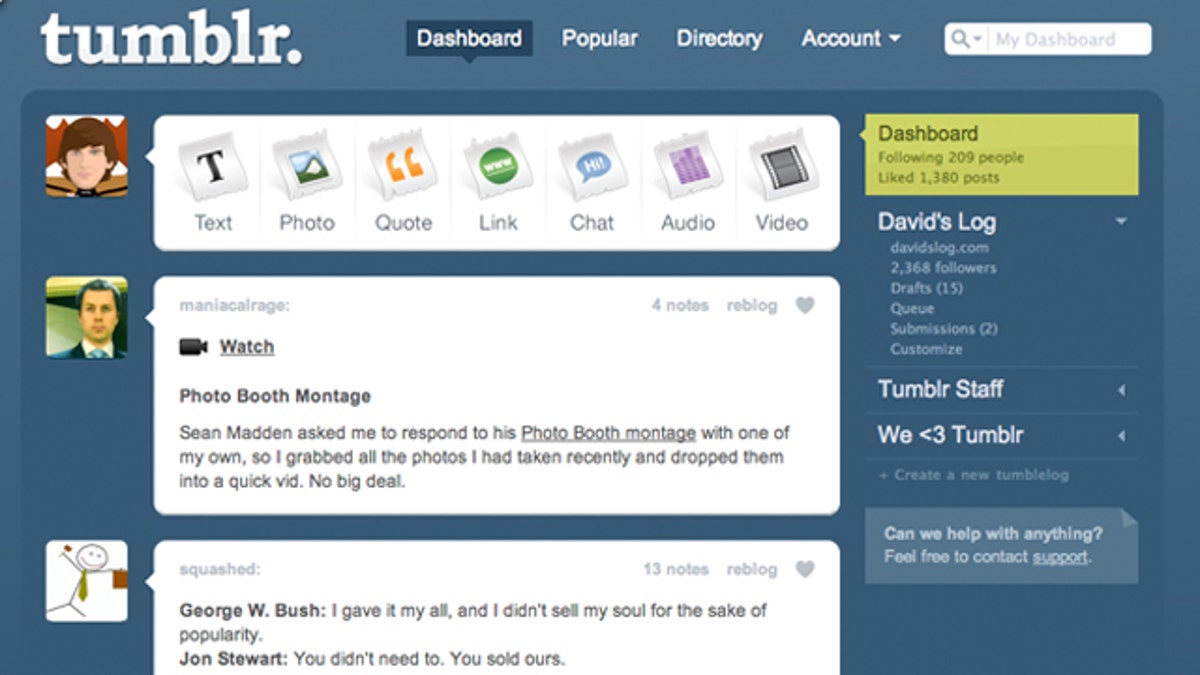 Recently, a user on the blogging site Tumblr shared her concern about some disturbing photos of people cutting themselves, but wrote, "I know people can post whatever they want."

Not anymore. The popular blogging site whose tagline reads, "Tumblr lets you effortlessly share anything" will this week begin taking down blogs that support self-injury.

Tumblr said that while it is committed to supporting and defending freedom of speech, it does draw some limits.

"Some specific kinds of content aren't welcome on Tumblr," the staff wrote. Blogs that cross the line into active promotion or glorification of self-harm behaviors will be removed.

In addition to taking down blogs that support eating disorders, cutting and suicide, Tumblr will refer readers to appropriate help organizations when they search for self-harm content. For instance, when a Tumblr user types in tags that are associated with support tips for anorexics such as "thinspiration," "thinspo" and "pro-ana," Tumblr will show a public service message such as:

"Eating disorders can cause serious health problems, and at their most severe can even be life-threatening. Please contact the [resource organization] at [helpline number] or [website]."

However, some Tumblr bloggers are concerned that the new policy will do more harm than good. "Self- harm blogs are helping me know that I'm not alone in this world," a Tumblr user wrote. "Without my blog and everyone else's blogs, I'd probably be dead by now."

A London-based user has launched an online petition to stop the ban. She said that self-harm bloggers post this content because it is an accurate representation of feelings that they would otherwise not be able to express. To them, Tumblr is a form of therapy, she said.

Her petition has been signed by more than 1,650 supporters. It urges Tumblr to consider an alternative to the ban. Bloggers posting self-harm related content could be required to include a disclaimer that the author cannot be held responsible for how viewers interpret the content they post along with links to recovery sites.
What a World Without Facebook Would Be Like
11 New Warning Signs Help Spot Mental Illness in Children
Copyright 2012 TechNewsDaily, a TechMediaNetwork company. All rights reserved. This material may not be published, broadcast, rewritten or redistributed.