Tripp Halstead dies 5 years after being struck by falling tree branch as a toddler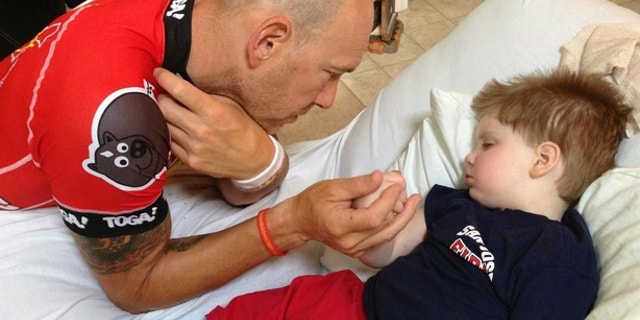 Millions of people rallied around 2-year-old Tripp Halstead as he fought for his life after getting crushed by a falling tree branch outside his day care in Jefferson, Ga., back in 2012. The freak accident, which caused him a traumatic and lasting brain injury, was covered by news outlets across the country.
On Thursday, five years after the injury, Tripp's parents announced on a verified Facebook page with more than 2.7 million subscribers that the 7-year-old boy had died.
"We are beyond devastated and honestly I believe I am in shock," Tripp's patents, Bill and Stacy, wrote on the Facebook page that kept people updated on the boy's health. "Our amazing, perfect, beautiful miracle of a son, Tripp Hughes Halstead passed away at 5:47 pm today. He was our whole world."
The mom explained in an earlier post that Tripp was having trouble breathing when she woke him up for school Thursday morning. She immediately gave him oxygen, which the family already had on hand, and drove him to the emergency room.
"The ER was very happy we brought him in. His oxygen levels were low and his CO2 levels were high so they have him on high flow oxygen and they did blood work, x rays and got an IV started," Stacy explained.
Stacy said the boy died after fighting an infection.
"Bill and I were in the room when he passed at the hospital. His little body was just done fighting this last infection," she said. "His little heart gave out."
Tripp was running around at the playground of his day care on Oct. 29, 2012, when a tree limb fell and knocked him in the head. He suffered brain damage, remained in a coma for weeks and was brought home from the hospital nearly 10 months after the accident.
But his journey to recovery had just begun.
Tripp had undergone more than a dozen surgeries — from a gallbladder removal to repairing a dent in his head. In February 2013, he was diagnosed with bacterial meningitis, a life-threatening infection.
Tripp's close circle of family and friends were active in the community. They attended races, fundraisers and more events set up by the public to raise awareness and money for treatment.
Cyclist Dave Nazaroff and his wife, Kaete, founded RIDE to GIVE, a nonprofit "that turns athletic ability into fundraising power for families with children," according to the charity's website.
In 2013, the pair helped organize a race to benefit Tripp and his family. Nazaroff traveled nearly 900 miles ‒ from New York to Atlanta ‒ over a period of five days to raise money for Tripp.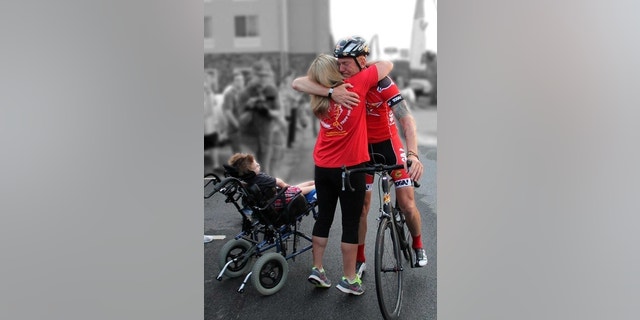 On Thursday, the organization shared a photo of Nazaroff meeting Tripp for the first time.
"Dave is struggling in a way I've never seen and yet it can't even compare to what the Hughes and Halstead families are going through," Kaete wrote in a Facebook post on Friday. "My gut instinct is to want to help, like we did five years ago after first reading about Tripp's accident. But we can't help this time. We can't change anything. It's a horrible feeling."
Bill and Stacy thanked the millions of people and groups, like RIDE to GIVE, for supporting their family over the past five years.
"We thank you from the bottom of our hearts for the past 5 1/2 years. You let us into your lives and You were there when we needed you most," the couple wrote.
The Associated Press contributed to this report.