Tragic photo shows parents comforting daughter, 5, hours before her death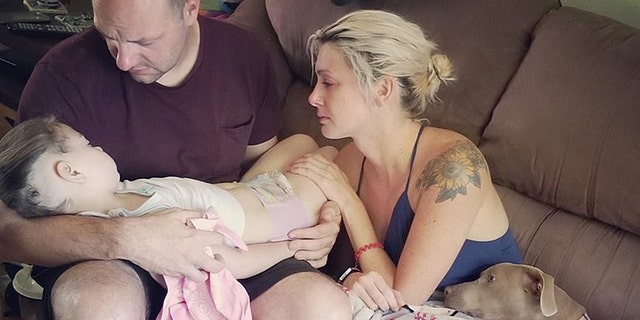 A tragic photograph captured grieving parents holding their 5-year-old daughter just hours before she died.
Casey and Ben Daggett of Fairport, N.Y., knew their daughter Zoey did not have much time left when they woke on July 4, but they were not aware that the picture would be the last one taken before she died.
"We were noticing that her [Zoey] fingers were turning bluer and she was getting more pale," Casey Daggett told People. "We had the nurses come and visit in the morning and we were just sitting with her. They knew that she was getting closer [to death]. So we sat with her and held on to her. We all just sat with her and waited."
3 CHARGED OVER ALLEGED SNAPCHAT VIDEO OF DYING STROKE PATIENT TITLED 'THE END'
Zoey took her last breath almost exactly two years after she was diagnosed with diffuse intrinsic pontine glioma (DIPG), the family said. The family spent the day listening to music and watching one of Zoey's favorite movies, "Harry Potter and the Prisoner of Azkaban," NBC 2 reported.
"Midway through the movie that was it," Ben Daggett told NBC 2.
The father said his daughter stopped responding to radiation about one month before her death.
"It was probably a month ago we kind of figured out that the radiation wasn't working anymore," he said.
The Daggetts said their daughter received the devastating diagnosis after she fell at the park and began limping. They took her to see if she had any broken bones but she was fine. A few days later, Zoey was transported to the emergency room after losing mobility in her hand. There, doctors found a brain tumor.
GIRL, 7, MEETS NATIONAL GUARD VETERAN WHO DONATED BONE MARROW THAT SAVED HER LIFE
Casey Daggett recalled the nurses taking the photo of her daughter just hours before her death.
"We were both talking to her and crying," she recalled. "I was saying, 'It's OK. It's OK to let go. You're gonna be OK. You're gonna see people that you love. Just let go.' I was trying to talk her into letting go because I knew her body had already gone through so much. It was so sad."
Zoey's funeral was held on Monday.
"I'm gonna miss her snuggles. [She] just had to be with me all the time and I miss that," Casey Daggett said. "I loved her laugh and the way she always wanted to talk to people and say 'hello' to people. She was so outgoing and would run up to people and give them big hugs. It was who she was in spirit. She was a giant ball of happiness."