Traffic stop ends in birth of baby girl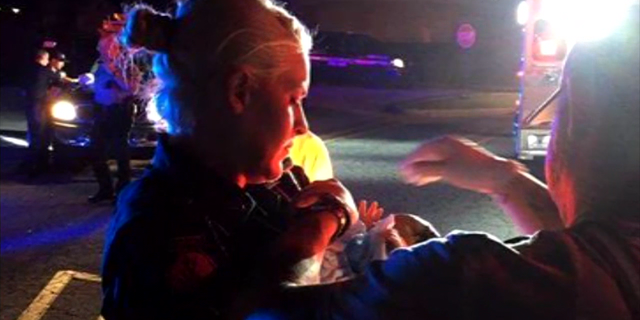 A routine traffic stop ended in a career first for one Georgia officer, after she jumped in to help deliver a newborn baby girl. Douglasville Police Officer Candace Tongate had pulled over an unidentified woman for making an illegal U-turn early Wednesday morning when another car followed them into a nearby parking lot, Fox 5 Atlanta reported.
"A man drove up on me and asked for help," Tongate told Fox 5 Atlanta. "He said his wife was in labor. And so, I told him as well to pull into the Monterey's parking lot. When he told me he could see the baby and I walked up and I also saw the baby I realized it was a little closer than I thought it was going to be."
PETE FRATES TO GET HELP WITH ALS MEDICAL BILLS
Tongate let the other driver go with a warning before getting assistance from Sgt. Stacy Gruber who arrived in time to help deliver the unidentified couple's third child.
"When the baby came out Officer Tongate rolled it over on its stomach," Gruber told Fox 5 Atlanta. "I had hold of the umbilical cord, because it broke. And you hear that first cry, see the smile on the mom, and dad's face, it's priceless."
WHY MOSQUITOES ARE CONSIDERED A WORLDWIDE THREAT
The baby, who was named Riley, and her mother were taken to a nearby hospital where they are said to be doing well.
"I don't have kids and this is the first child I've been involved with coming out and I will definitely remember for the rest of my life," Tongate told Fox 5 Atlanta.