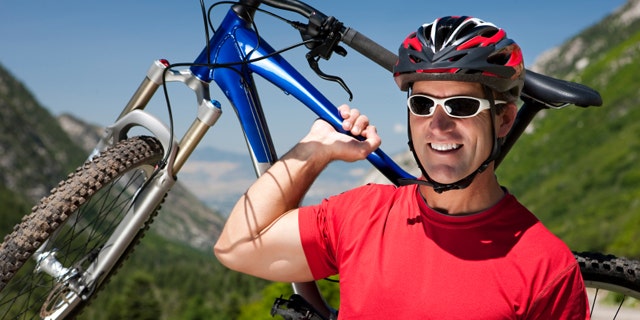 Looking for a little more excitement in your workout?
There's nothing wrong with the sports or exercises you're doing, but perhaps you're seeking something that spikes your adrenaline a little more than, say, jogging.
There are a ton of adventure sports out there for you to try, and most are more than just a scary good time. The majority of these activities are healthy and good for you in multiple ways -- as long as you don't push your limits too much, of course.
Here are the top 10 adventure sports active guys should look into.
10. Hiking
If you're a fan of simple walking or jogging, you'll enjoy hiking and the challenges it offers. It's nice to get off the beaten path while at the same time experiencing elevation changes and different sights. The changes in elevation -- short climbs and descents -- will work the muscles in ways that walking cannot, and eventually, you can graduate to steeper climbs and more challenging terrain.
9. Dirt Biking
If you've graduated from cycling to mountain biking and are still looking for a physical challenge, dirt biking might be next on your list. True, you won't get the leg workout that you would on a bike with pedals, but it requires good upper-body strength to steer a heavy motorized bike around a course. Don't automatically picture yourself doing motocross, complete with 360s and back flips; a beginner's course should give you quite a test until you master the machine.
8. Skiing
Skiing provides impressive sights and a great workout as you navigate your way through the course. Now, imagine enjoying those same benefits while soaring through the air. Hang gliding is one of the top daredevil sports, but is supremely addictive once you give it a shot. It's exciting to be among the 1% of individuals who have seen the world through a bird's-eye view.

7. Bungee Jumping
Bungee jumping is like no other sport, and while it's over in a matter of seconds, the adrenaline rush you experience will last much longer than that. The memories, of course, will last a lifetime, and this adventure sport is certainly not for the faint of heart. If you're up for something that is truly the epitome of an adventure sport, this might be right up your alley.

6. Scuba Diving
If you love the water but want to move beyond dips in the lake at the cottage, scuba diving could be the answer. Many cities offer training courses at pools, so by the time you go south for a holiday, you'll be up to speed on what to do below the water. Scuba diving is a quiet, peaceful activity, yet the thought of not knowing what sights -- and creatures -- you'll discover around the next corner offers sheer adventure.
_________________________________________________________________________
More From AskMen.com:

Top 10: Calorie-Burning Activities

Top 10: Ways To Burn More Calories

Top 10: Male Bonding Activities
_________________________________________________________________________
5. Orienteering
A great social sport and perfect for the nature lover, orienteering offers a unique physical and mental workout. Many sports are mostly physical in nature, but this activity is sure to test the gray matter as well. It's challenging to identify key points in the terrain and navigate around them, while it's physically demanding to get to those points in the required amount of time.
4. Kayaking
Kayaking is a sport that you can tailor to exactly the way you want. If you're looking for a workout and some tranquility, rent a kayak at the nearest beach and paddle down the river, away from the crowd. If you want to step up the intensity (after you're experienced, of course) a beginner's rapids course can provide a big-time shot of adrenaline, not the mention an exhausting workout for your upper body.
3. Rock Climbing
Many gyms are now offering rock climbing, and it's possible to enjoy this adventure sport both indoors and outdoors without living at the base of a mountain. Rock climbing looks scary from a distance, and if you're not crazy about heights, this might not be for you. If the proper safety steps are followed, however, rock climbing can be perfectly safe and, at the same time, a real rush.

2. Mountain Biking
Street cycling is a great exercise, but taking your game to a mountain -- or a hilly trail, if a mountain's not readily available -- should raise your adrenaline levels. It's loads of fun to explore new terrain, especially when surprises may lie around each corner. The elevation changes will keep you in top shape, and you'll burn calories and add muscle without constantly inhaling diesel fumes from the nearest city bus.
1. Surfing
Surfing is one of the toughest activities to master, but it'll offer a workout that will have you feeling good from your toes to your head -- after the initial shock to your muscles, of course. Obviously, it helps if you live by an ocean, but this awesome sport is something you can work away at mastering over a lifetime. In addition to building a rock-hard core, surfing will build your arms, chest and back as you paddle out to the waves.