Too much protein can prove fatal for boy with rare condition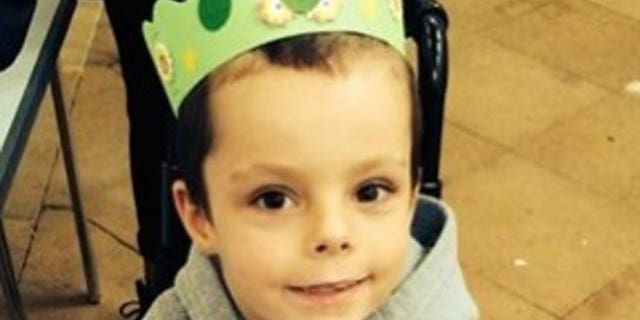 While some people opt against eating meat and dairy for dietary or ethical reasons, 7-year-old Alfie Smith must restrict these protein-rich food groups due to a rare, life-threatening condition, The Daily Mirror reported.
At age 1, Alfie, of Awsworth, Nottingham, in central England, was diagnosed with glutaric aciudemia type 1, which prevents those affected from consuming more than 19 grams of protein daily. If the boy consumes too much protein, he may risk brain damage.
"One of the reasons he can't walk is that he can only have so little protein, his leg muscles are weak," Michelle Whelan, Alfie's mother, told The Daily Mirror.
According to the National Institutes of Health, people with glutaric acidemia type 1 have inadequate levels of an enzyme that helps break down the amino acids that are the building blocks of protein. Excessive levels of these amino acids and their byproducts can build up, causing damage to the brain regions responsible for movement. Intellectual disability can also occur.
"He's all there in the brain, but his little body and legs don't work," Whelan said.
The hereditary condition occurs in only 1 in 40,000 people, according to the Daily Mirror.
Whelan said Alfie's daily protein is restricted to a turnip, a sausage and two chicken nuggets.
"He gets upset when his dad and his sister are having burgers," Whelan told the news website. "Even when he's crying for it, I have to explain why he can't have it. He just wants to be like everyone else."
Keeping Alfie healthy is imperative because if the boy develops a sickness as simple as the common cold, he cannot eat and is at a heightened risk of undergoing metabolic crisis, which is potentially fatal, Whelan said.
According to The Daily Mirror, Alfie underwent an eight-hour operation in London in 2014 to have electrodes placed on his brain and a battery pack on his stomach to increase communication between his muscles and brain.
The boy's parents have aimed to spread awareness about their son's condition ever since his diagnosis, but now they're trying to raise about $20,000 for treatment in Slovakia that would enable him to walk. So far, they've raised about $1,000.
"With the treatment plus the operation he's had here, we think he can learn to walk," Whelan said. "It's such a rare condition, we don't know what lies ahead for him in the future."
Click for more from The Daily Mirror.