Tips for eating healthy on-the-go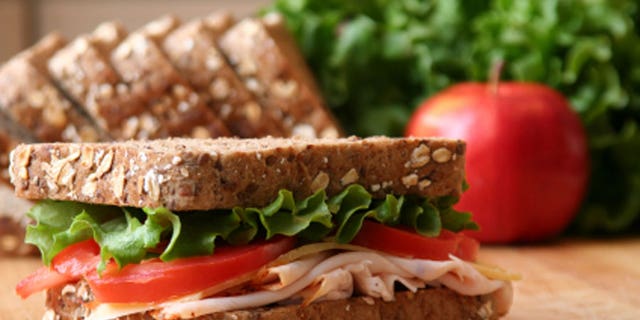 Whole grains
Breads, rolls, and starchy salads can pile on lots of calories with little nutritional benefit. Choose whole grains for an added boost of fiber and nutrition. Whole wheat pita bread, wholegrain wraps, multigrain rolls and whole wheat tortillas are delicious and easy to prepare.
Tanya's Tip: Wraps are great for an easy, tasty lunch. Use a whole wheat tortilla, such as La Tortilla Factory (only 50 calories and 7 grams of fiber) add your choice of lean protein, some low-fat cheese and crunchy veggies. Voila! It's a wrap!
Lean protein
Lean proteins are low in fat and keep you feeling full between meals. Tuna packets are a super-convenient source of protein because they go anywhere. Many grocery stores and delis now carry ready-made grilled chicken breasts that are easy to toss on your salad or fold into wrap.
Tanya's Tip: Turkey, ham and roast beef are great go-to proteins along with low-fat cheeses.
Veggies
Make life easier by buying precut veggies and keep a variety in plastic baggies for ready use. Vegetables pack lots of fiber, vitamins and minerals, and antioxidants into your diet and for only 25 calories per serving.
Tanya's Tip: Have a microwave at work? Bring frozen veggies that come in their own steam bag.
Fruits
Fruits provide so many health benefits and they are naturally low in calories (60 calories per serving) and high in belly-filling fiber, antioxidants and vitamins. Plus, fruit is so portable!
Tanya's tip: Make whole fruits like apples, pears, peaches, and plums your grab-and-go snack. For grazing on something sweet you won't do better than berries, grapes and cherries.
For more tips, delicious high fiber meal plans, recipes, and proven ways to lose weight and look great, check out my new book The Miracle Carb Diet: Make Calories and Fat Disappear – with Fiber!
Tanya Zuckerbrot MS, RD, is a registered dietitian in New York City and author of The Miracle Carb Diet: Make Calories and Fat Disappear – with fiber as well as the bestselling F-Factor Diet. Follow Tanya on Facebook, Twitter and LinkedIn, and visit her website Ffactor.com.