The truth about vitamin-supplement kits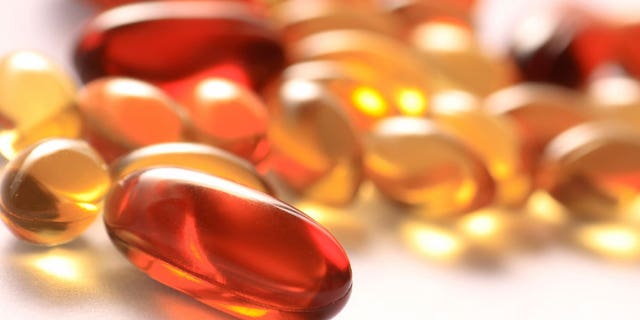 From corner delis to gyms to health-food superstores, vitamin packs line the aisles, promising to help you burn fat faster, focus better, and supercharge your bedroom performance.
Are these magic-pill claims grounded in science, fairy tales, or somewhere in between? Here's our guide to the new pop culture.
DETAILS: The Ultimate Weights-Free Workout
Daily Dose by Dr. Frank Lipman
What You Get: Multivitamin, omega-3s, and probiotics, from Lipman, board-certified physician to the stars.
The Claim: Ups immunity and supports heart health and metabolism.
What to Like: Probiotics for gastrointestinal help (and perhaps anxiety reduction).
What Not to Like: 8,334 percent of your daily B12 dose—most of which you'll piss out. "Americans have the world's priciest urine," says Felicia Stoler, author of Living Skinny in Fat Genes.
Bottom Line: "Spend the extra cash on good groceries," Stoler says.
$99; bewellbydrfranklipman.com
DETAILS: 5 Reasons to Skip Breakfast
GNC's Mega Men: Energy & Metabolism Vitapak
What You Get: Fish oil, staminol, Carnitine 500.
The Claim: Increases energy, metabolic efficiency, mental focus, sexual health, and exercise recovery.
What to Like: Trials show Burn 60 can spike metabolism by 60 percent post-workout.
What Not to Like: Yohimbe-bark extract, an aphrodisiac the National Center for Complementary and Alternative Medicine warns can be dangerous if taken long-term.
Bottom Line: Improved metabolism usually refers to raising one's heart rate—only temporarily. "The real way to do it is to build muscle mass," Stoler says.
$50; gnc.com
DETAILS: 7 Trends You'll Be Wearing This Fall
Dr. Weil's Five Essentials
What You Get: Multivitamin, antioxidant, coenzyme Q10, omega-3s.
The Claim: Promotes healthy cell function and a robust metabolism.
What to Like: Alpha lipoic acid—great for metabolizing carbohydrates and, possibly, improving short-term memory.
What Not to Like: Choline; recent studies have shown that a choline supplement may cause diarrhea.
Bottom Line: Go for it, if you don't mind paying for Weil's name (he's the founder of the Arizona Center for Integrative Medicine and a best-selling author of 10 books).
$90; drweilproducts.com
DETAILS: The Hottest Male Models of 2013 (so far)
Nutrilite Men's Pack
What You Get: Vitamin C, multi-carotene, omega-3s.
The Claim: Strengthens the heart; declutters the mind; toughens the immune system.
What to Like: 518 mg of phytonutrients, health-protective plant compounds.
What Not to Like: Time-release vitamin C allegedly provides all-day support, but Harvard School of Public Health says that's untrue.
Bottom Line: Nutrilite is part of a multilevel-marketing company. "Is it just about making money?" Stoler asks. But its Nutricert program ensures that botanical materials meet certain standards.
$27; amway.com
DETAILS: 5 Anti-Aging Tips Everyone Should Follow
• • •
Workout Supplements Gone Wild
The A-Roids of the world aren't the only ones enhancing performance with pre-workout supplements. Thanks to guarantees of unbridled power, faster muscle recovery, and a talk-of-the-gym body, "everyone is using them," says Drew Prinz, a clinical nutritionist. But their effectiveness and safety (or lack thereof) are worth a second thought. Stimulants lend energy and focus; vasodilators boost circulation and, therefore, aerobic capacity; and amino acids supercharge endurance. "If you usually do four sets, you will—and then four more," Prinz says.
But many contain banned components. One popular ingredient is illegal: The amphetamine-like stimulant DMAA has been linked to at least five fatal cardiac arrests, with the FDA trying to seize products, like Jack3d and OxyElite PRO, from warehouses. In general, "juicing masks what your body is supposed to feel," says Stoler. Indulging anyway? N.O.-Xplode, the first on the scene, "still has the best reputation," Prinz says.
DETAILS: 7 Tricks to Boost Your Metabolism
• • •
The Truth About Powdered "Greens"
Green mixes, those dehydrated herbs and veggies, purport to boost vigor, vitality, and virility. Should you drink up?
The Pros
They're convenient, with a longer shelf life than anything you'll find in the produce aisle, and they make it easy to amp up variety. Kamut, anyone?
The Cons
Many minerals and much of the fiber are lost in processing, along with enzymes needed to absorb nutrients. Also, beware of fillers, including artificial sweeteners and, in some cases, heavy metals and pesticides. Avoid InnerLight Super Greens, which failed a recent ConsumerLab.com investigation for high levels of lead; Vibrant Health Green Vibrance (arsenic); and The Ultimate Meal (bacteria).
The Verdict
Vegetable powders are better than no vegetables at all. Try stirring a GMO- and gluten-free formula, like Athletic Greens, into hot cereal with goji berries.