The new nanny: Families looking for special skills in caregivers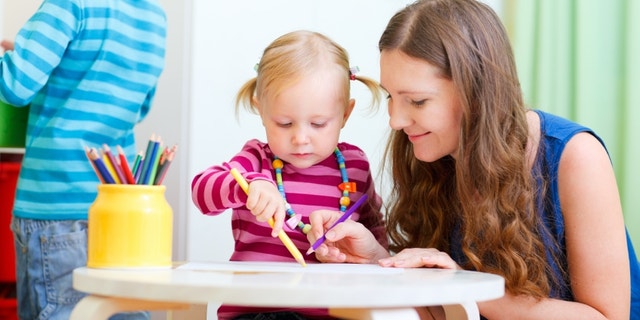 NEWYou can now listen to Fox News articles!
With both parents working outside the home in approximately 59 percent of households in America, nannies have become a more popular childcare choice for many families.
Parents cite multiple factors that contribute to the need to hire a nanny; where the parents work, how many hours they work each day, and the availability of friends and family members to pitch in are a few circumstances that impact the decision to seek outside help.
Once the decision to hire a nanny has been made, the question of 'Who is best for our family?' follows. Today's nannies must have more than kindness, patience, and punctuality; families are looking for unique characteristics that set a caregiver apart from all other applicants.
Bethany Hunter, a certified teacher who has been a nanny on both the West and East coasts, now works for two families in New Jersey. In addition to her usual responsibilities, which include picking up the children from school, supervising play time at the park and helping with homework, she also plans and prepares healthy meals for the families.
Hunter, who writes a blog called Vegan on the Fence, has taught herself about healthy and balanced meals, and now shares this information with both the parents and children with whom she works.
For one family, she stops by the local health food store and emails the parents weekly specials and recipe ideas. Based on their feedback, she will purchase the suggested items. She sometimes even prepares the meals ahead of time so the families simply have to heat up their dinner during the week.
She finds parents are interested in her cooking skills because most are busier today than they used to be, and that others are on the health-food bandwagon simply because it's trendy, but all are pleased with her knowledge of and passion for healthy food.
Though her interest in nourishing and well-balanced meals is well known, Hunter is careful not to cross boundaries in teaching families about nutrition.
"I had a really close relationship with one family I worked for and was able to make suggestions freely, but I never wanted the parents to feel judged or guilty about their choices," said Hunter.
Dr. Lindsay Heller, a licensed clinical psychologist, former nanny, and mother of two young children, is the owner of The Nanny Doctor, a consulting service for families and nannies. Based in Beverly Hills, though working with families all over the country, she also sees the desire for nannies who have an understanding of healthy cooking and overall healthy lifestyles.
"Families in Los Angeles are very health conscious," said Heller. "Many families are eating organic, gluten-free, dairy-free, and soy-free diets. They want someone who is knowledgeable in vegan, vegetarian, and/or gluten-free food preparation."
According to Heller, another important skill parents look for in a nanny is a background in education or experience with certain behavior management techniques.
"Parents are really looking for a reflection of themselves in their absence, in terms of how a nanny responds to their children," she said. "Some parents are looking for a nanny to carry through on specific philosophies, such as Reggio or Waldorf practices, or specific discipline programs, such as 1-2-3 Magic."
Heller added that these days, the demand for nannies who speak foreign languages is higher than ever.
"In an age where people are competitive to get their kids in the best schools, foreign language skills are highly desirable in a nanny," said Heller. "Parents know if their children learn Mandarin, it will help them in the long run."
In fact, all unique skills possessed by nannies are beneficial when matched with the right family.
"If they have a nanny who is also a swim coach and they have a pool at home, the benefit is really 'bang for your buck,'" said Heller. "You can include all those skills in one time period."
In addition to managing life inside the home, some families look for nannies who are resourceful in scenarios outside the home. For the bold and always-on-the-go family, Adventure Nannies offers a unique service, catering to families who travel frequently or enjoy action-packed vacations.
Founder Brandy Schultz is no stranger to a life on the road. As the original "Adventure Nanny" and now wife to The Lumineers' frontman Wesley Schultz, Brandy has learned many tricks of the trade while traveling, both as a nanny and now touring with her husband. She shares these tips with the nannies she employs.
"We make sure our nannies are well-prepared and supported. Some parents are involved in planning the day, but most often, the nanny has creative control of the day's activities'" said Schultz. "We work with both the families and the nannies before a trip, making sure they have a long list of resources for a long car or plane ride and a tool box of games and activities."
Schultz, who along with some of her nannies is a trained Wilderness First Responder, said flexibility is the primary characteristic needed for nannies who travel with families and that being able to keep a cool head during sticky situations is important.
"There's no space when you're on the road," said Schultz. "When you're in a hotel room or a green room, it's a hotbed for emotions to run high."
In addition to flexibility and patience, all of the Adventure Nannies have unique skills and hobbies make them a great match for adventurous families. Some enjoy skiing, whitewater rafting, and sailing, and share these skills with the children in their care.
"Our clients break the mold of stereotypes of mothers who stay at home," said Schultz. "Our nannies fill the entire role as an extension of Mom, as a caregiver and educator. Parents feel they can give their kids these experiences, work and travel at the same time."
As the dynamics of families have changed over the years, so have the need for and qualifications of nannies. With the addition of a highly skilled and creative nanny, parents who may have lamented the loss of freedom and excitement when they transitioned to family life now take advantage of the extra set of hands and enjoy a full and adventurous schedule, whether at home or on the road.