The MEAL study: Fighting prostate cancer with fruits and vegetables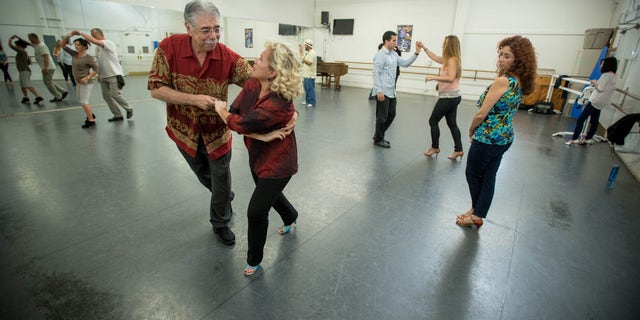 When Charles Trevino, now 65, was first diagnosed with early prostate cancer last year after a routine physical, he wasn't thrilled by his options for treatment.
Despite the fact that prostate cancer is the most common cancer among men, treatments for the disease, such as surgery or radiation, are often accompanied by devastating side effects.
"They said, 'Look Charles, you'll probably have erectile dysfunction, and you'll probably have to wear diapers for a while, because you're going to have urinary problems'" Trevino, of South Pasadena, Calif., told FoxNews.com. "…Everything was left up to me and I didn't decide easily…(but) I think it's just too important for me to have quality of life."
Seeking an alternative, Trevino was referred to Dr. Hyung Lae Kim, co-medical director of the urologic oncology program at the Cedars-Sinai Samuel Oschin Comprehensive Cancer Institute in Los Angeles. After meeting with several specialists, Trevino sat down with Kim to discuss his options. Along with surgery and radiation, Kim presented Trevino with the opportunity to join one of several clinical trials for men with prostate cancer – including the MEAL study.
Having enrolled 200 patients nationwide since its launch in 2011, the MEAL study focuses on one simple goal: getting men in the early stages of prostate cancer to increase their fruit and vegetable intake. Participants receive nutritional counseling while undertaking an 'active surveillance' approach to monitoring their disease – in the hopes that healthy eating will help slow the cancer's progression.
"(Dr. Kim) said, 'It's unproven. We think there's a connection, but I'm going to be honest with you we don't know. We haven't fully validated that,'" Trevino recalled. "…He said, 'Try it. You have nothing to lose. If anything you'll lose weight and feel better.' So I said, 'Why not?'"
As little as five years ago, approximately 90 percent of prostate cancer patients underwent either a prostatectomy or radiation treatment to rid themselves of the disease, according to Kim. However, doctors now know that the majority of prostate cancers are so slow-growing that they will likely never pose a real threat to a man's life.
"What we know now is that the vast majority (of prostate cancer patients) are treated unnecessarily, and (these men) suffer side effects of treatment. And some of them, like urinary incontinence and erectile dysfunction affected quality of life for many years to come," Kim told FoxNews.com. "So the new paradigm is to take patients and when possible monitor them by active surveillance."
For patients like Trevino who are in a low or extremely low-risk stage of the disease, doctors are increasingly opting for active surveillance, which involves monitoring the cancer on a regular basis using prostate-specific antigen (PSA) tests, rectal exams and periodic biopsies or MRIs of the prostate. If the disease progresses to the point where it becomes a threat to life, patients can then choose to undergo treatment.
As more patients are opting for active surveillance of prostate cancer, doctors are also beginning to study whether lifestyle modifications – such as diet or exercise – can slow the progression of the disease.
"The idea behind the MEAL study is if you increase the number of servings of fruits and vegetables in the diet, you can decrease the risk of cancer progression while on active surveillance," Kim said.
MEAL study participants, all of whom must have previously followed a typical American diet that includes meat and dairy, are divided into two groups. One group is given a simple brochure containing nutritional information, while the intervention group receives regular nutritional counseling and recommendations to increase servings of fruits and vegetables in their diet.
Trevino was assigned to the intervention group and began receiving nutritional counseling on a weekly basis, through which he obtained guidance as to how to make healthy alterations to his diet.
"It's not technically low-fat or low-carb. They're not trying to avoid red meat, though these are all things people have suggested may be helpful," Kim said. "All its doing is increasing fruits and vegetables, and with the side effect of that, if you eat six servings of fruits and vegetables, you might eat less meat, less fatty foods."
So far, Trevino has experienced success on the MEAL plan. Over the past year, he's lost about 20 pounds and decreased his waist size from a 40 to a 38. Even more importantly, his prostate cancer has remained under control.
"I am more cognizant of the greens I eat. I never realized how important they are to nutritional balance and our bodies," Trevino said. "…We Latinos like the beans, the rice, the tortillas, flour tortillas which I was born and raised on. But some of that stuff, as you get older, isn't good for you anymore."
Proponents of the MEAL study also argue that it provides a way for active surveillance prostate cancer patients to feel as if they have some control over their health, helping to alleviate their anxiety as they employ a 'wait and see' approach to tracking their disease.

"Our hypothesis is that for patients who are actively trying something to decrease their cancer progression risk, they're going to have a better sense of well-being and less anxiety," Kim said.
Trevino has said his quality of life has markedly improved under the MEAL study. Not only has he lost weight, but Trevino said he now finds he has a better attitude and more energy to do the activities he enjoys most – like salsa dancing.
"I believe cancer is not a death sentence, if you change the way you live, change the way you eat, change the way you stress and the way you live life," Trevino said. "I'm not thinking (the cancer) is going to go away, but I believe we can slow down the progression of the cells, and I can have 20 to 30 years more of life, and I can keep dancing, exercising and jogging."