The FDA has asked a drug maker to take this opioid off the market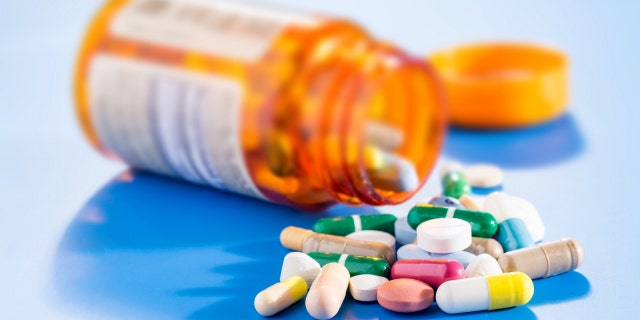 NEWYou can now listen to Fox News articles!
The United States is in the middle of an opioid crisis, so it's easy to assume that all opioids can be equally detrimental to people's health. But now, the Food and Drug Administration says one in particular is especially contributing to the opioid epidemic.
The FDA has asked Irish pharmaceutical company Endo International to take one of its pain medications, Opana ER (oxymorphone hydrochloride), off the market because of its potential for abuse. "After careful consideration, the agency is seeking removal based on its concern that the benefits of the drug may no longer outweigh its risks," the FDA said in a press release. "This is the first time the agency has taken steps to remove a currently marketed opioid pain medication from sale due to the public health consequences of abuse."
The FDA says its decision is based on a review of data that shows a "significant shift" in the abuse of Opana ER, with more people moving from crushing and snorting the drug to injecting it after the product was reformulated. (Opana ER was first approved by the FDA in 2006, but the reformulated version, which was intended to lower the potential for abuse, was released in 2012.) Now, the FDA says that injections of the new version of Opana ER have been linked with an outbreak of HIV and hepatitis C, as well as cases of thrombotic microangiopathy, a serious blood disorder.
Endo International said in a press release on its website that the company is "reviewing the request and is evaluating the full range of potential options as we determine the appropriate path forward." The company also said that "despite the FDA's request to withdraw Opana ER from the market, this request does not indicate uncertainty with the product's safety or efficacy when taken as prescribed."
Opana ER is an opioid that is intended to help manage pain that is severe enough to require daily, around-the-clock, long-term treatment.
It's also meant to be used when alternative treatment options don't work. Essentially, it shouldn't be prescribed lightly—but Andrew Kolodny, M.D., codirector of Opioid Policy Research at the Heller School for Social Policy and Management at Brandeis University, tells SELF that the overwhelming majority of patients receiving prescriptions for Opana don't have the severe pain for which this kind of drug should be reserved.
James J. Galligan, Ph.D., a professor of pharmacology and toxicology and director of the neuroscience program at Michigan State University, tells SELF that the drug itself isn't necessarily harmful if people use it as prescribed. "Opana ER is prescribed for patients who have severe pain," he says. "It is effective...and the overdose liability is low if taken as prescribed [because] the extended release formulation allows the oxymorphone to be absorbed slowly from the gastrointestinal tract after the patient takes the pill."
However, if people crush the tablets and either snort or inject them, there is a high risk of an overdose. "The amount of the drug that gets into the bloodstream is extremely high," Galligan says. "Endo has tried to develop new formulations to prevent crushing, but apparently these have not been as effective as hoped."
Overdose-related deaths in the U.S. nearly tripled between 1999 and 2014, according to data from the Centers for Disease Control and Prevention, and opioids were largely to blame. Per CDC data, there were 47,055 drug overdose deaths in 2014, and 28,647 of them were due to opioids like heroin, OxyContin, Percocet, Vicodin, and other prescription painkillers.
Unfortunately, all opioids can be addictive, even if they're taken as directed.
However, Galligan says that some drugs like tramadol (found under the brand names Ultram, Ryzolt, and ConZip) and buprenorphine (Buprenex, Butrans) have a "reduced abuse potential." That's because they're often not as effective as other opioids at relieving pain, so there's an extremely important trade-off there. If you're prescribed pain medication, here are other things to keep in mind to lower your chances of addiction.
The FDA has requested that Endo voluntarily remove Opana ER from the market. However, the agency has made it clear that they'll take steps to formally require its removal by withdrawing FDA approval if Endo doesn't decide to pull it from shelves. "We must take all necessary steps to reduce the scope of opioid misuse and abuse," said FDA Commissioner Scott Gottlieb, M.D., in a statement.
This story originally appeared on SELF