The Art of the Throw Down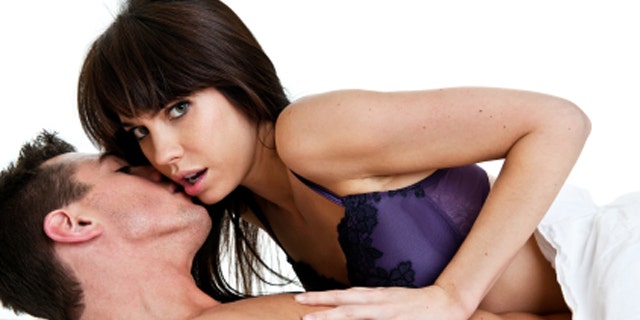 NEWYou can now listen to Fox News articles!
A woman once told me she knew her husband was in the mood when he walked up to her from behind, stuck his hands up her shirt and said in a slow, creepy voice, "Look what I found."
She dreaded having sex with the man, and I can't say that I blame her. That sort of build up wouldn't turn me on, either.
I'm guessing this is not how he initiated in the beginning of their relationship. Back then he probably slowly built up to the act and did things that caused her to feel adored. Then many years and a lot of resentments took place and eventually he shortened his act to the hands-up-the-shirt technique. She consented because she felt it was her duty.
But there's a better way—one that leads to hot, passionate, satisfying sex for both partners. It's called mastering the art of the "throw down," as my lady friends like to call it. And men: You can learn how to how to do it by reading romance novels. Women devour romance novels, in part, because they crave the throw down scene.
"The throw down -- or, in historical romance novel speak, ravishment--is saying YES, NOW when there are a million reasons to say no," says Maya Rodale, author of A Tale of Two Lovers and A Groom of One's Own.
What follows are five secrets, from Rodale and other romance novelists, for perfecting the art of the thrown down and wooing your wife into the bedroom.
1. Don't be afraid to be a man. Romance heroes own it. "Throw down requires a confident man who will take charge," says Rodale. "Throw down requires certainty. Throw down demands a sense of abandon—forget about the laundry, e-mail, work, that appointment in an hour—and just go for it. No excuses. Don't talk about your feelings. Don't be too sensitive and gentle."
2. Make her feel desired. Your wife has a lot on her mind. If you want her to get in the mood, you'll want to do something that will make her forget the bills, the laundry, and the kids. You also want her to forget about the muffin top and the wrinkles. Make her feel utterly desired.
"If her man can make her believe that he's dying to have her and that she is absolutely the only woman in the world he wants, she's going to be a lot more interested in going back to the days when sex was just fun and delicious and slightly sinful. In short, women want to be wanted—hungered for," says Leslie Kelly, the author of dozens of novels for Harlequin, and who also writes dark romantic thrillers under the name Leslie Parrish.
3. Make her feel special. She doesn't want to feel like any old woman. She wants you to desire her for her own unique qualities. "Men forget to focus on the intimacy that reminds a woman she's special," says Carly Phillips, New York Times Bestselling novelist of Kiss Me If You Can and Love Me If You Dare. "Sex is easy; the rest of it takes thought."
4. Start foreplay hours before the main event. It takes the average guy about 2 minutes to get in the mood. It takes the average woman anywhere from 20 minutes to a few hours.
"If a man wants fabulous sex with his wife at night, he should start seducing her that morning," says Kelly. "Start with a lingering kiss goodbye that goes way beyond the quick peck you usually gives her. Follow up with flirtatious e-mails. Call her at lunchtime and tell her you've been thinking about her all morning. When you get home, offer her a genuine compliment that makes her feel feminine and desirable. At the dinner table, make a suggestive comment that flies over the kids' heads. Run your fingers down the small of her back while she's washing the dishes.
By bedtime, she'll have had a whole day of foreplay and you've barely even touched her. Her mind has done all the work, with just a slight effort from you. Believe me, when it comes to women, ten minutes of touching have got nothing on twelve hours of anticipation."
5. Make love with more parts of your body. Use your words. Use your eyes. Use your mannerisms.
"Foreplay isn't just the fooling around a few minutes before sex," says Rodale. "It begins with the way the hero looks at the heroine with undisguised lust. It's that small caress on the small of her back, that whispered inside joke, that crackling chemistry."