Thailand considers Zika tests for all pregnant women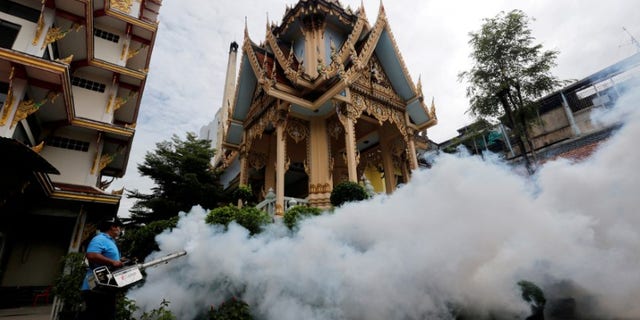 BANGKOK – Thailand is considering testing all pregnant women for Zika, the health ministry said on Monday, following confirmation last week of its first known cases of microcephaly, a birth defect marked by small head size, linked to the Zika virus.
The two confirmed cases of microcephaly were the first in Southeast Asia linked to Zika, which has been spreading in the region after outbreaks in the Americas.
"The health minister has asked us to study whether this is necessary and cost-effective," health ministry permanent secretary Sophon Mekthon told Reuters, referring to free tests for all pregnant women.
A Zika test costs about 2,000 baht ($58) but repeat tests are often needed.
"At the moment, we check pregnant women in Zika-affected areas only, not all pregnant women. So far, we've tested about 1,000 pregnant women."
Zika infections in pregnant women have been shown to cause microcephaly - a severe birth defect in which the head and brain are undersized - as well as other brain abnormalities.
The connection between Zika and microcephaly first came to light last year in Brazil, which has since confirmed more than 1,800 cases of microcephaly.
Thailand has confirmed 392 Zika cases since January, including 39 pregnant women, and Singapore has recorded 393 Zika cases, including 16 pregnant women.
The U.S. Centers for Disease Control and Prevention (CDC) has said people should consider postponing travel to Brunei, Myanmar, Cambodia, Indonesia, Laos, Malaysia, Maldives, Philippines, Thailand, East Timor, and Vietnam.
The CDC has already issued a "travel notice" for Singapore.
Some health experts have accused tourism-dependent Thailand of playing down the risks from the mosquito-borne infection but health ministry officials have dismissed that, saying that other countries in Southeast Asia might also have cases of Zika-linked microcephaly that they have not disclosed.
Health authorities in the region say they are stepping up monitoring, but there has been little testing and officials said the real number of cases was bound to be higher than the confirmed figure.
The Philippines, Malaysia, Vietnam and Indonesia have all reported at least one confirmed case.
There is no vaccine or treatment for Zika. An estimated 80 percent of people infected have no symptoms, making it difficult for pregnant women to know whether they have been infected.
In adults, Zika infections have also been linked to a rare neurological syndrome known as Guillain-Barre, as well as other neurological disorders.
(Editing by Robert Birsel)