Teen with rare blood disorder gets wish to coach Lakers for a day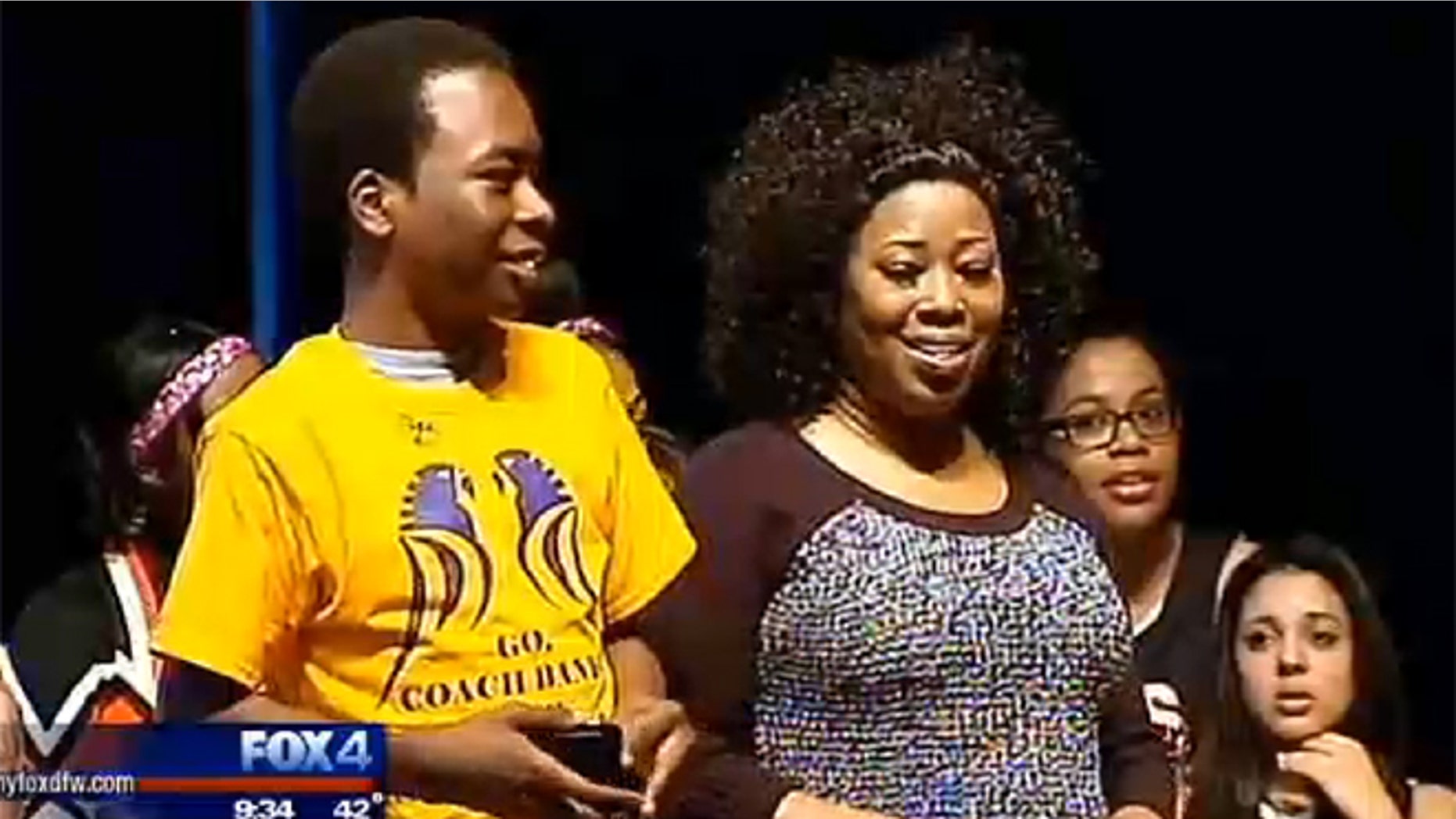 A Texas sophomore diagnosed with a rare blood disorder walked into his high school Wednesday to an auditorium full of classmates anxiously waiting for his arrival. On the stage a projector was placed to deliver a special message to the die-hard Los Angeles Lakers fan.
Banks Graham, who has sickle cell anemia, made his way to the stage and the screen turned on.
"What's up Poly High?" said Kobe Bryant, Graham's favorite player.
"I've got a very special message for my man Banks," Bryant said in the pre-recorded message, MyFoxDFW.com reported.
"Banks I can't wait to have you in January and coach one of our practices man. I look forward to meeting you and making your wish come true," he said.
"I know it can't be easy being a Lakers fan in Texas, so I appreciate your support and I look forward to seeing you in January my man," Bryant said.
After Bryant's video played, a special ESPN Sports Center segment was aired announcing the Lakers new hire, according to MyFoxDFW.com.
Then, it was time for Graham, 16,  who said he's been a Lakers fan since day one, to address his classmates.
"He inspires me in many ways, such as with confidence and never giving up," Graham told his friends of Bryant.
Sickle cell anemia is an inherited blood disorder that affects red blood cells. The disease can cause red blood cells to contain an abnormal type of hemoglobin which can cause the cells to become crescent-shaped, making it difficult to pass through small blood vessels, according to Sickle Cell Disease Association of America. In the U.S., approximately 70,000 to 100,000 individuals have the sickle cell anemia.
The disease can cause severe infections, anemia, stroke and damage to major organs. There is no widely available cure, but there are treatments to improve anemia and symptoms.
Graham's wish was granted through the Make-A-Wish Foundation, and the organization was on hand to witness the unveiling.
"In that initial meeting, I learned Banks is very kind, strong and grateful young man who loves sports, particularly basketball," Corrine Revsbeck of Make-A-Wish told The Star-Telegram.
Fort Worth Mayor Betsy Price was also on hand to present Graham with a medal from the city.
Graham is expected to spend January 26-27 with his favorite team, and also attend a game.