Teen who suffered cardiac arrest in viral video speaks out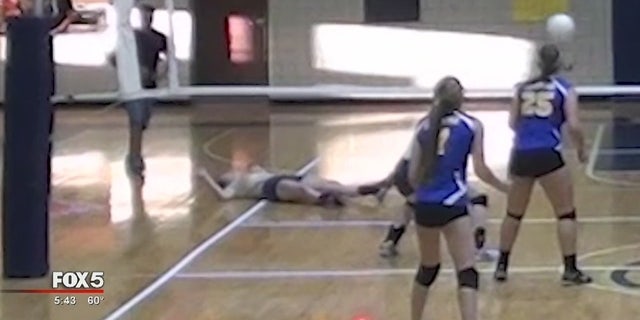 NEWYou can now listen to Fox News articles!
The terrifying footage of a Georgia high school volleyball player suffering a heart attack was caught on camera last October, and now the player and the school administrator who saved her life are speaking out.
Claire Crawford, 17, had served then set the ball for her Loganville Christian Academy team on senior night when she suddenly felt like she was going to pass out, Fox 5 Atlanta reported.
"And then I moved back, and I just remember feeling like I was going to pass out," Crawford told the news station. The video shows her grab her chest then hit the floor in full cardiac arrest.
Julie Sirmans, the lower school academic dean at the school, was one of the people who ran to surround Crawford and is trained in CPR.
"You're very nervous," she told Fox 5 Atlanta. "You're not sure what to do. You're not sure what you're seeing."
Sirmans, who was trained by Children's Healthcare of Atlanta, along with an athletic trainer and a parent tried to find a pulse and checked for breathing. They found neither.
"She did not look like there was any life to her," Eric Crawford, the teen's dad, told Fox 5 Atlanta. "And at that point I didn't know what to do."
Sirmans' training kicked in, and she rushed to get a nearby defibrillator while instructor others to call 911.
"You hear a lot of noise," Eric remembered. "(The AED) telling you what to do. It's telling you to shock. Julie and I kind of looked at each other. And then she pushed it."
More than four minutes later, Crawford was shocked back to life.
"I woke up to one of the ladies who had been giving me mouth-to-mouth. And the AED machine was shouting, 'CPR! CPR!' and the alarm was going off," Crawford told Fox 5 Atlanta.
Once at the hospital, tests revealed Claire's heart had three severe blockages and had slipped into ventricular fibrillation (V-Fib), a fatal irregular rhythm.
"And it's a rhythm that can only be corrected by a shock. So if I had gone down and they had not had an AED, CPR would not have brought me back," Crawford told the news station. "I would have had to wait for the ambulance."
She underwent a triple bypass at Children's Healthcare of Atlanta and was fitted with an internal defibrillator.
"I was just blessed to be in a place where it could be treated," she told Fox 5 Atlanta. "Two weeks before that, I was in Honduras, in the mountains, and there is no way, if it had happened then, I would not have lived."
The video has been viewed more than seven million times.