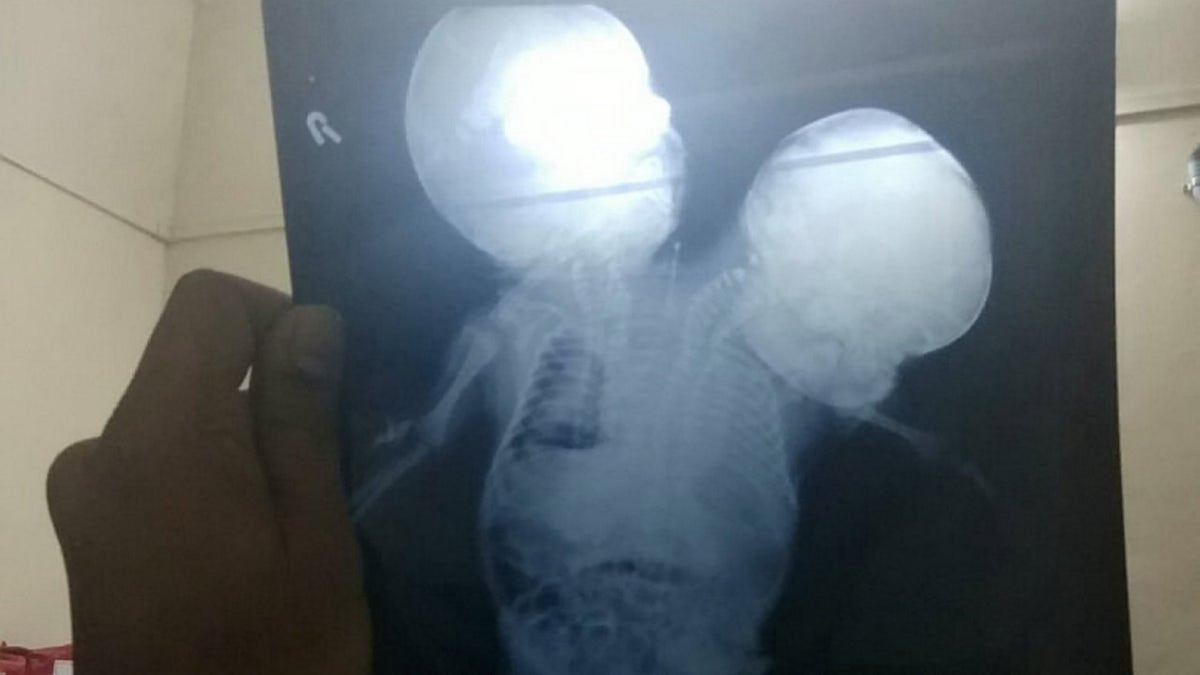 A family in India is mourning the loss of conjoined twins who were born crying on Sunday, but died just 24 hours later. The boys, who were born with two heads and shared a torso, two arms and two legs, had been given a zero percent chance of survival past birth.
Doctors who delivered the boys via caesarean section at Swami Ramanand Tirth hospital in Maharashtra, western India, reportedly said it would have been impossible to separate the pair had they survived. Their condition was not detected until 32 weeks gestation, The Independent reported.
"The babies were a case of dicephalic parapagus or two-headed twins, which are often stillborn," Dr. Sanjay Bansode, head of the hospital's gynecology unit, told the news outlet. "It is extremely rare and happens just one in a lakh (100,000) and chances of dicephalic parapagus twins are of around 10 percent of such births."
SORORITY SISTER DIES 3 WEEKS AFTER GETTING HIT IN HEAD BY SOCCER BALL
The boys, who were born to a 32-year-old mother who has asked to remain anonymous to prevent potential backlash, weighed 8 pounds and were placed on a ventilator immediately after birth. The family has three daughters and one son, and were said to be devastated upon learning of the twins' diagnosis.
"The mother did not know she was carrying conjoined twins until the 32nd week of pregnancy," Bansode said, according to The Independent. "They asked us to do anything to save the babies but such kids do not survive. There is no possibility of surgery either as they share most of their body parts and in this case had just one pair of limbs."
Bansode said the hospital dealt with a similar case in 2014 involving a woman who was seven months pregnant with conjoined twins. In that case, the babies died immediately after birth, SWNS reported.