Teacher who lost hands, feet to flesh-eating bacteria adjusting to new life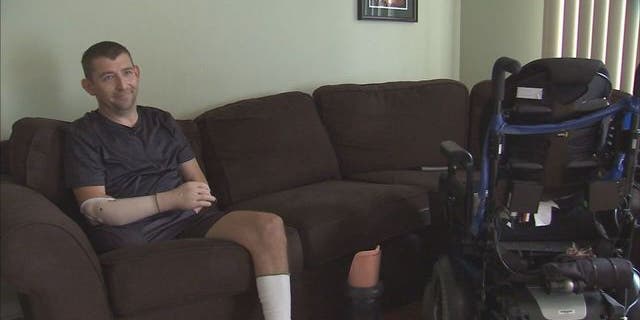 A 40-year-old teacher in Michigan who lost both of his hands and feet to flesh-eating bacteria is working his way back to the classroom with the help of technology.
James Newsome, who did not disclose why he visited a hospital in January, but said that he contracted Strep A while there, told Fox 2 Detroit that the infection resulted in septic shock, which cut off the blood supply in his arms and legs.
"It resulted in amputation" Newsome, a third-grade teacher, told Fox 2 Detroit. "The tradeoff is almost certain death."
NEW HAMPSHIRE MAN DIES AFTER YELLOW JACKET STING, WIFE SAYS
He has prosthetics, but his "insurance doesn't pay for the next level of hands."
To help with the growing costs, his family has started a fundraising page. He said returning to his classroom at Randall Elementary School has helped keep him motivated, as well as the love he has for his 4-year-old daughter.
BOY WITH AUTISM FIGHTS TO KEEP SERVICE DUCKS AFTER TOWN ORDERS FAMILY TO GET RID OF THEM
"There is nothing more important to me than being her father," he told Fox 2 Detroit. "I had a picture of her at the foot of my bed. Anytime I was feeling down and out, I looked at the picture to remind myself why that I'm here and why I need to push so hard."