Tanning beds tied to US health costs of $343M a year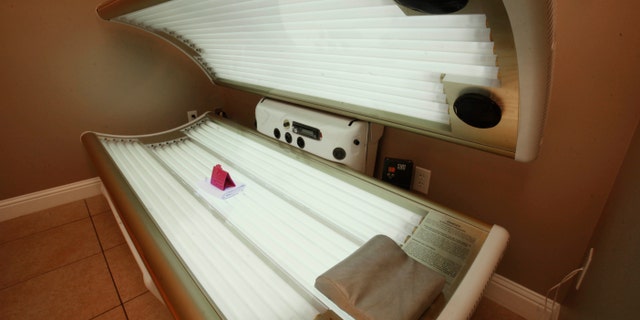 Skin cancers caused by indoor tanning are responsible for $343 million a year in direct medical costs for U.S. patients, a recent study suggests.
On top of those direct healthcare costs, lost productivity and early deaths among patients with melanoma and other malignancies tied to tanning bed use will exceed $127 billion over the lifetime of the people currently diagnosed with these cancers, the study also found.
"We already knew that the use of indoor tanning devices is damaging to health and can cause cancer, but we did not have a comprehensive documentation of the health impacts at the population level or an estimate of the costs of health care to treat these conditions," said study co-author Hugh Waters of the University of North Carolina at Chapel Hill.
An estimated 30 million people in the U.S. use tanning beds at least once a year, and they have approximately 25,000 tanning salons nationwide to choose from, researchers note in the Journal of Cancer Policy.
To estimate the health costs associated with indoor tanning, researchers tallied the average costs to treat skin malignancies including melanoma, squamous cell carcinoma and basal cell carcinoma.
Based on previously published estimates of the increased cancer risk associated with tanning beds, they also calculated the proportion of cases of these cancers that is attributable to indoor tanning.
With data on the prevalence of tanning device use in the U.S., they were able to calculate the number of skin cancer cases caused by tanning beds and the associated costs for treatment in 2015.
That year, tanning beds were linked to 8,947 cases of melanoma, more than 168,000 cases of squamous cell carcinoma and at least 86,000 cases of basal cell carcinoma.
Based on data from Medicare, the U.S. health insurance program for the elderly, researchers calculated that the average 2015 cost of treating melanoma was $5,054 per case and the typical cost for other skin cancers was $1,168.
In addition to these medical costs, researchers calculated the economic loss over the lifetime of individuals currently diagnosed with these cancers based on what they described as the value of a lost year of life.
This estimate was calculated based on the size of the U.S. population and on a measure of the size of the economy known as gross domestic product (GDP) in 2015. Under this formula, a year of life lost resulted in a $55,266 reduction in GDP.
It's possible the study underestimated the number of skin cancers associated with indoor tanning, the authors note. Their cost estimates also didn't include long-term medical and productivity costs associated with follow-up physician visits or additional care.
However, it's also possible the study overestimated the economic costs associated with indoor tanning, said Dr. David Leffell, a researcher at Yale School of Medicine in New Haven, Connecticut, who wasn't involved in the study.
"I believe that the health risks and costs of natural sun exposure exceed those of indoor tanning substantially," Leffell added by email.
All unprotected exposure to ultraviolet (UV) rays can increase the risk of developing skin cancer, noted Dr. Elizabeth Martin, president of Pure Dermatology and Aesthetics in Hoover, Alabama, and a researcher at the University of Alabama School of Medicine.
"The cost of treating skin cancer is the same regardless of whether the patient used indoor tanning or tanned outdoors," Martin, who wasn't involved in the study, said by email.
Tanning beds, however, can make melanoma, the deadliest type of skin cancer, more likely, and the risk increases with more tanning sessions, Martin said.
The risk is stark for young women.
"Women younger than 30 are six times more likely to develop melanoma if they tan indoors," Martin noted. "Even one indoor tanning session can increase users' risk of developing squamous cell carcinoma by 67 percent and basal cell carcinoma by 29 percent."
SOURCE: http://bit.ly/2lkInK7 Journal of Cancer Policy, online February 28, 2017.