Surgeons remove pencil from boy's chest after freak accident nearly kills him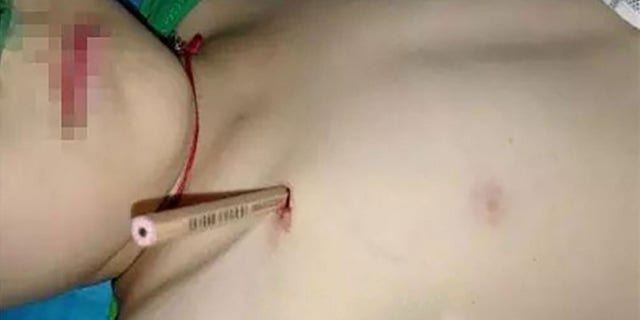 NEWYou can now listen to Fox News articles!
A five-year-old boy was reportedly less than an inch away from death after a pencil impaled his chest and narrowly missed puncturing a major artery in his heart. The boy, whose name was not disclosed by Asia Wire, reportedly tripped while holding the pencil.
WOMAN GETTING NEW NOSE AND LIPS AFTER INFECTION CAUSED THEM TO 'FALL OFF'
His parents rushed him to Lianjiang People's Hospital near their home in South China's Guangdong Province before medics advised that he be transferred to Central People's Hospital of Zhanjiang, according to the report. Once there, surgeons worked to safely remove the pencil, which was .2 inches away from causing a fatal injury.
Dai Ming, head of the department of cardiothoracic surgery, told Asia Wire that the tip of the pencil pierced the boy's superior vena cava. Ming said that the boy's parents acted heroically in seeking help rather than attempting to remove the pencil at home.