Students' invention helps disabled swimmer compete in triathlon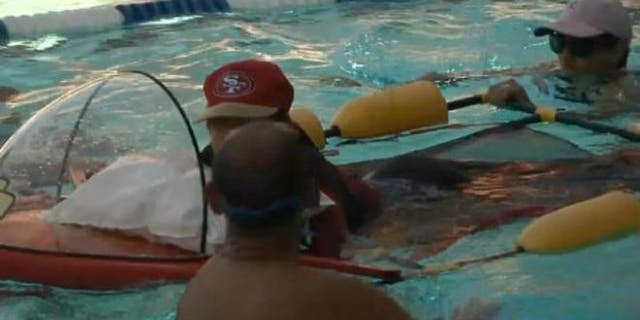 SAN LUIS OBISPO, Calif.- A California man who has cerebral palsy will swim competitively in a triathlon for the first time with the help of an invention made by three California Polytechnic State University students.
Joseph Cornelius is an inspiration to his swim team members.
"He teaches us every day how to face life," said his father, John Cornelius.
The 20-year-old lacks muscle control over his limbs as a result of cerebral palsy.
John and his son are a duo that have competed together as "Team Joseph" in 100 races, from short runs to marathons, but a triathlon was never an option until now.
"It's not fair that he can't do the things he wants to do, so that's where we come in," John said.
Thankfully, the Cal Poly students invented the Aquabullet, which makes swimming a possibility for people with disabilities like Joseph.
"For the Special Olympics it opens up new doors for some adaptive equipment," said Special Olympics Sports Manager Michael Lara.
Lara says the flotation device is a first of its kind.
"There is not enough adaptive equipment we're always open to new ideas," Lara said.
The device protects Joseph from getting splashed, has an air pillow to keep his head comfortable and above water, and has a mesh that makes Joseph feel like he is swimming.
"Water is so different from anything else for him, it's a therapy," John said.
For the first time, "Team Joseph" will compete in the three sport competition.
"It opens up so many opportunities for challenged athletes," John said.