Stranger donates hair to 3-year-old undergoing chemotherapy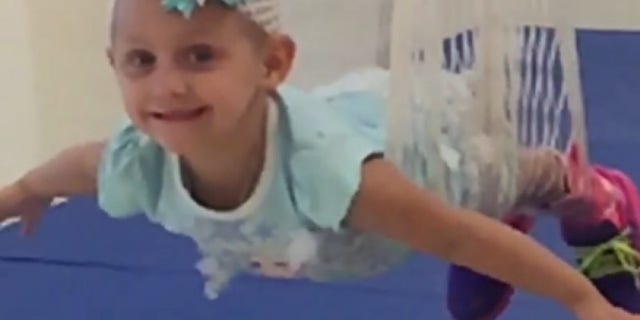 A 3-year-old girl who loves the character Elsa from the Disney flick "Frozen" has learned the importance of being kind to strangers after undergoing emergency surgery for a tumor on her spine.
Raeleigh Hogue was given a 25 percent chance to survive in January after an MRI revealed a 3-inch mass pressing against her spine, FOX4News.com reported. She has had to undergo chemotherapy treatment, which caused her to lose her blond hair.
"I was so angry," Brittnee Hogue, Raeleigh's mom, told FOX4News.com. "I was angry at the world, I was angry at God."
Brittnee told the news website that Raeleigh has a condition called drop foot, which means she can't move her toes, and she can't bend or flex her foot. Through it all, she hasn't lost her love of dressing up like a princess but asks her mother where her hair has gone.
"Sometimes, we have to take medicines and it makes our hair fall out," Brittnee told her daughter.
Raeleigh faces six more months of chemotherapy, but when a new neighbor met Raeleigh a week ago, she was determined to make the process a little less painful for her.
Christina Martin decided to cut 15 inches off her long blonde hair in the hopes of turning it into a wig for Raeleigh.
"I think she's going to be super, super excited," she told FOX4News.com. "I just know that I wake up thinking about Raeleigh, I go to sleep thinking about her, it all just happened so fast, but it all just felt so right."
Martin is raising money for the $1,800 it will cost to make her hair into a wearable wig for Raeleigh.
"Just to be able to see her smile, and just to be able to give her that confidence back, would mean the world to me," she told FOX4News.com.