Start your day off right: 10 under 200-calorie cereals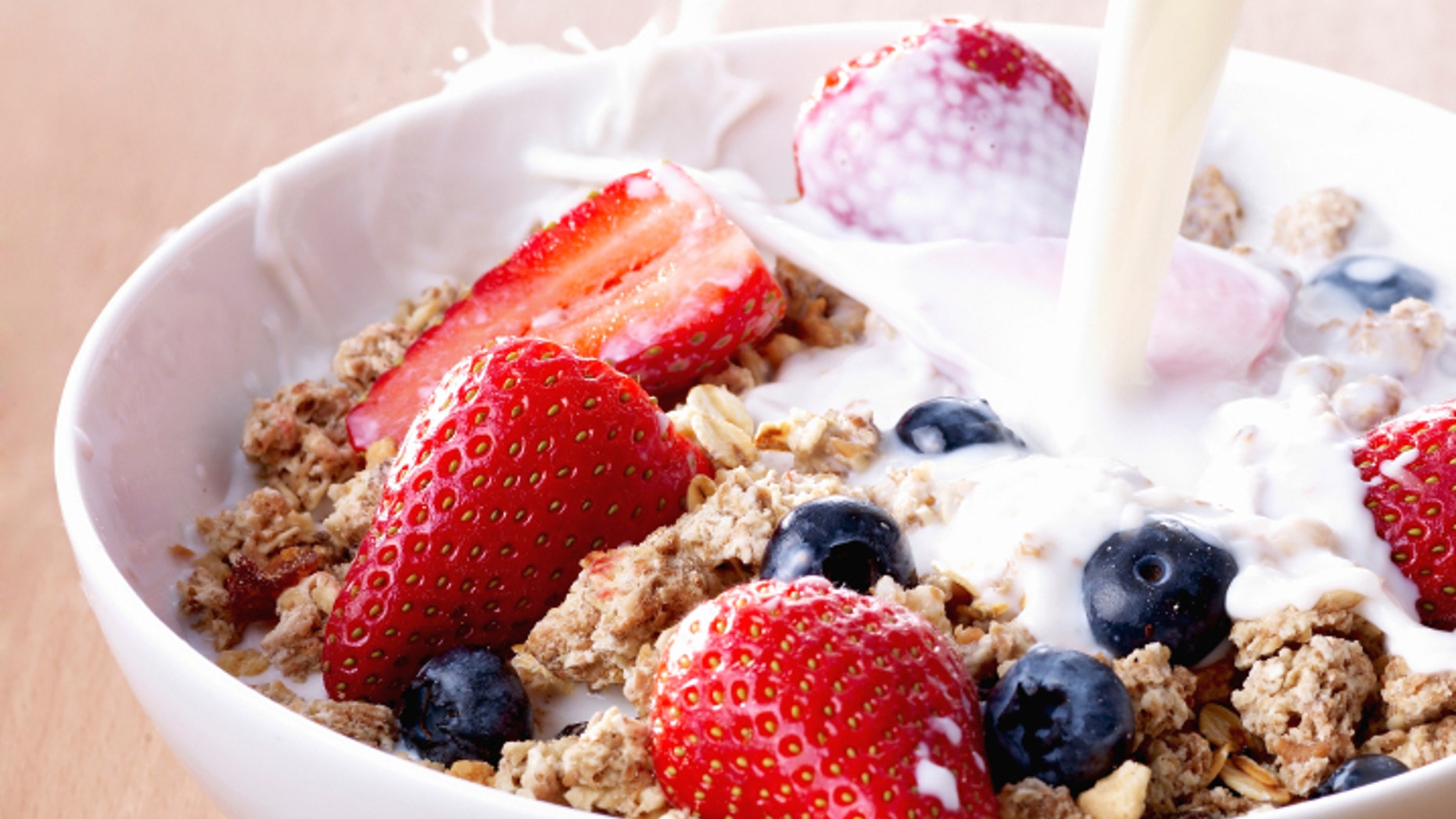 Remember all those colorful pebbles, puffs and crisps we ate as kids? Yeah, they were cute little calorie bombs. But these 10 picks have less than 6 grams of sugar per serving, plus some major health benefits. Grab a spoon!

(Calories based on regular serving size of dry cereal. Calculate how many calories milk will add here.)
Cheerios
1 cup: 100 calories
There's a reason your mom carried these around as finger food when you were a toddler. A serving of Cheerios has no saturated fat and just 1 gram of sugar, plus you'll get 3 grams of fiber and protein in each bowl.
Related: 20 Superfoods For Weight Loss
Van's Natural Foods Honey Nut Crunch
3/4 cup: 120 calories
This gluten-free cereal from Van's Natural Foods contains no high-fructose corn syrup. You'll get 5 grams of fiber, 2 grams of protein and a nice touch of sweet in each serving—so much better than that morning donut.

Arrowhead Mills Oat Bran Flakes
1 cup: 140 calories
Looking for an alternative to good old raisin bran (which, depending on the brand, can be loaded with sugar?) Make your own. Start with some basic-but-healthy flakes like these, which have a solid 5 grams of protein and 4 grams of fiber, and simply top with raisins from the pantry. Breakfast, done.
Related: 6 Moves To Resize Your Butt and Thighs
Barbara's Puffins Peanut Butter and Chocolate
3/4 cup: 110 calories
What? You can eat PB and chocolate in the morning and not break the calorie bank? Believe it. These crunchy puffs have no saturated fat and 20 percent of your Vitamin D and Calcium for the day. Plus, they're yummy. If you've got a peanut allergy, check out Puffins' other flavors.
Fiber One
1/2 cup: 60 calories
Ok, ok, so fiber isn't exactly sexy. But it is essential. Fiber One's original cereal has a whopping 14 grams of fiber per serving with just 60 calories and no sugar. Which means you can dress it up however you choose—yogurt, fruit, it's all fair game.
Related: 5 Simple Steps to Cellulite-Free Skin
Mini Wheats
21 biscuits: 190 calories
Maybe you grew up on the frosted version, but stick to the original and you'll reap the rewards: 6 grams of protein, 8 grams of fiber and 90 percent of your iron needs for the day with just 1 gram of fat (and no sugar or sodium!). Find the taste too boring? Buy both versions and mix 'em up.
Cascadian Farm Organic Multi Grain Squares
3/4 cup: 110 calories
With organic whole wheat as the first ingredient, this cereal will have you smiling in the A.M. You'll also get 3 grams of protein and 2 grams of fiber in these slightly sweet little packages.
Kashi 7 Whole Grain Puffs
1 cup: 70 calories
This satisfyingly fluffy cereal gets credit for what it doesn't have: sugar, sodium, saturated fat and trans fats. You will get 18 grams of whole grains per serving, and this cereal is so low-calorie (and versatile!) that you can add your fave toppings without the guilt.
Nature's Path Oaty Bites
3/4 cup: 110 calories
Crunchy! These little cross-hatches offer up 2 grams of fiber, 15 grams of whole grains and 3 grams protein per serving.
Rice Krispies
1 1/4 cups: 130 calories
Consider this our nostalgic pick. With no fat and four grams of sugar (not too shabby for a sweet cereal like this), the original (unfrosted) Rice Krispies won't set you back too badly. And, really, is there anything better on a Saturday morning than cartoons and Rice Krispies?
This article originally appeared on Self.com.