Spa's 'Vampire Facial' clients urged to get tested for HIV, hepatitis after infection reported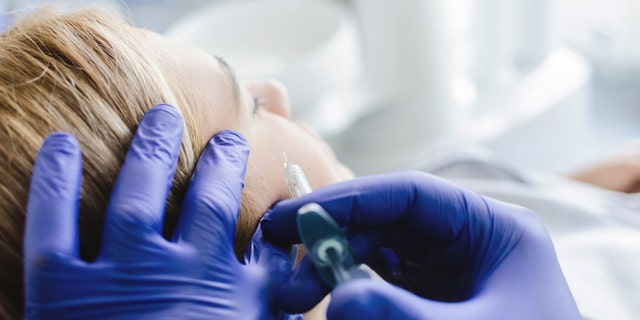 Health officials have shut down a New Mexico spa that offers "Vampire Facials" after at least one client reported developing an unspecified infection following an undisclosed procedure at the facility.
Officials further recommend that clients who sought procedures at VIP Spa, located in Albuquerque, get tested for blood-borne infections such as HIV and hepatitis B and C, KOAT Action News reported.
Officials from the New Mexico Department of Health, along with representatives of the New Mexico Regulation and Licensing Department and the Barbers and Cosmetologists Board visited the location on Friday and found concerning practices regarding injectable procedures.
WOMAN HAS 61-POUND FIBROID REMOVED FROM UTERUS
Among those procedures is a "Vampire Facial," which extracts platelets from a client's blood that is then injected back into the patient's face through micro-needling, KOAT Action News reported.
Celebrities such as Kim Kardashian have sought the procedure, meant to rejuvenate the skin. One cosmetic dermatogolist previously told Fox News that it's similar to when an orthopedic surgeon regenerates tissue in a patient's damaged joints.
While some believe the procedure can be effective, scientific studies have yet to prove that it has any long-lasting effects. And while doctors deem the procedure itself relatively safe, the risk comes in handling blood.
CAN YOU NEGOTIATE THE PRICE OF SURGERY?
"The risk of infection using blood products is greater than using sterile injectibles," New York City-based plastic surgeon Michelle Copeland, M.D., previously told Fox News. "It's not a closed syringe, so there is a risk when transferring the product from one tube to another."
The spa's owner told KOAT Action News that she is cooperating with health officials, and that she only uses disposable needles.
"It is very important that anyone who received a vampire facial or other injection-related service at the VIP Spa in May or June of 2018 come to the Midtown Public Health Office for free and confidential lab testing and counseling," NMDH Cabinet Secretary Lynn Gallagher said in a statement.