Sheriff's deputy donates kidney to fellow officer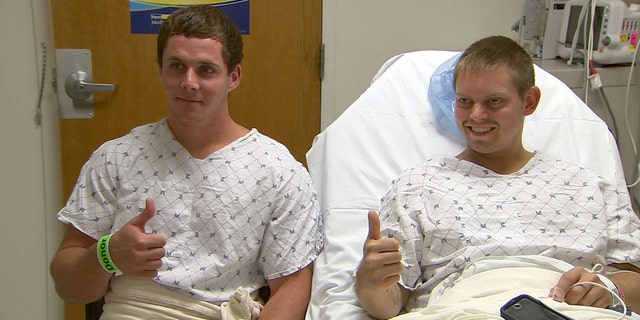 A Washington sheriff's deputy is going above and beyond the call of duty for his fellow officer, who is in need of a kidney. Charles County Deputy Andrew Fenlon donated his organ to Deputy Frederick "Sonny" Davis on Tuesday, Fox 5 DC reported.
The duo, who are lifelong friends and share the same birthday, grew up playing baseball together before joining the same force, according to the report. Davis, whose age was not disclosed has been battling kidney disease for 13 years and recently began dialysis.
TRANSPLANT RECIPIENT GIVES DONOR FAMILY RECORDING OF HEARTBEAT
"When I go to dialysis I get bad headaches," Davis told Fox 5 DC. "Last night I had a headache for four or five hours."
But despite his pain, Davis didn't approach Fenlon about the possibility of donating.
"He wouldn't have asked me," Fenlon told Fox 5 DC. "No one would really ask me to get tested. I just went up there and decided to get tested myself."
NEW CANCER TREATMENT CAN ERADICATE TUMORS, SCIENTISTS SAY
After Fenlon was found to be a good match for Davis, a surgery was scheduled with the support of their entire department. On Tuesday, the department posted their good wishes for the pair.
"All of us here at the CCSO are thinking of and praying for the Davis and Fenlon families today!" the post said. "Your courage is inspiring. We are here for you!"
Davis told Fox 5 DC that he was looking forward to ridding of the dialysis headaches.