She lost her baby, but pumped enough milk for 22 others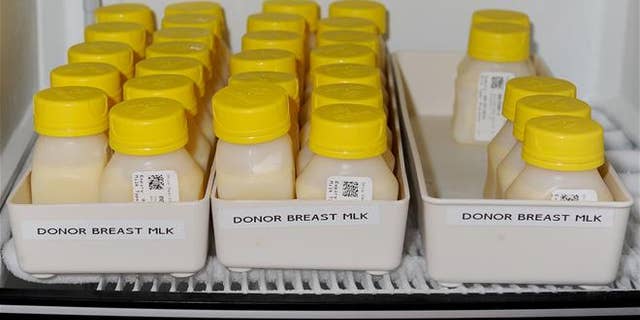 NEWYou can now listen to Fox News articles!
Pre-eclampsia forced Amy Hanson to have an emergency C-section at just over 27 weeks gestation. Her daughter, Adalyn "Addie" Rose, measured just 12 inches long. "Her diaper was the size of a Splenda packet, so small," Hanson tells the Chicago Tribune.
In the first days of Addie's life, Amy was only able to see her via FaceTime. Still, she began pumping, "the rhythm of the machine and flow of breast milk, connecting mom and baby when no other connection was possible," the Tribune writes.
Addie died after 160 days in the NICU; a few weeks later, Hanson pumped for the last time, then gave away all her excess milk: 5,000 frozen ounces—that's nearly 40 gallons—or enough to feed about 22 preemies for a month, nurses say.
And it's the perfect food for them, per BabyCenter, which explains the mother's body in these cases produces milk with "extra calories, vitamins, and protein." The executive director of the newly opened Mothers' Milk Bank of the Western Great Lakes tells the Tribune that nine bereaved mothers have given since January.
"They just absolutely can't bear the thought of throwing the milk away," she says. Elizabeth Peszat's 7-week-old son, Phil, died in 2013 after being delivered at 23 weeks gestation.
She donated the milk she had pumped, telling the Tribune in 2014 that it was "comforting" that other babies could use what her son couldn't.
One of those babies was Levi John Limmo, who, born at about 23 weeks, went on to survive. PhillyVoice has the story of another mother who pumped for eight months after her son's death at 20 weeks; she donated 92 gallons.
This article originally appeared on Newser: She Lost Her Baby, but Pumped Enough Milk for 22 Others
More From Newser