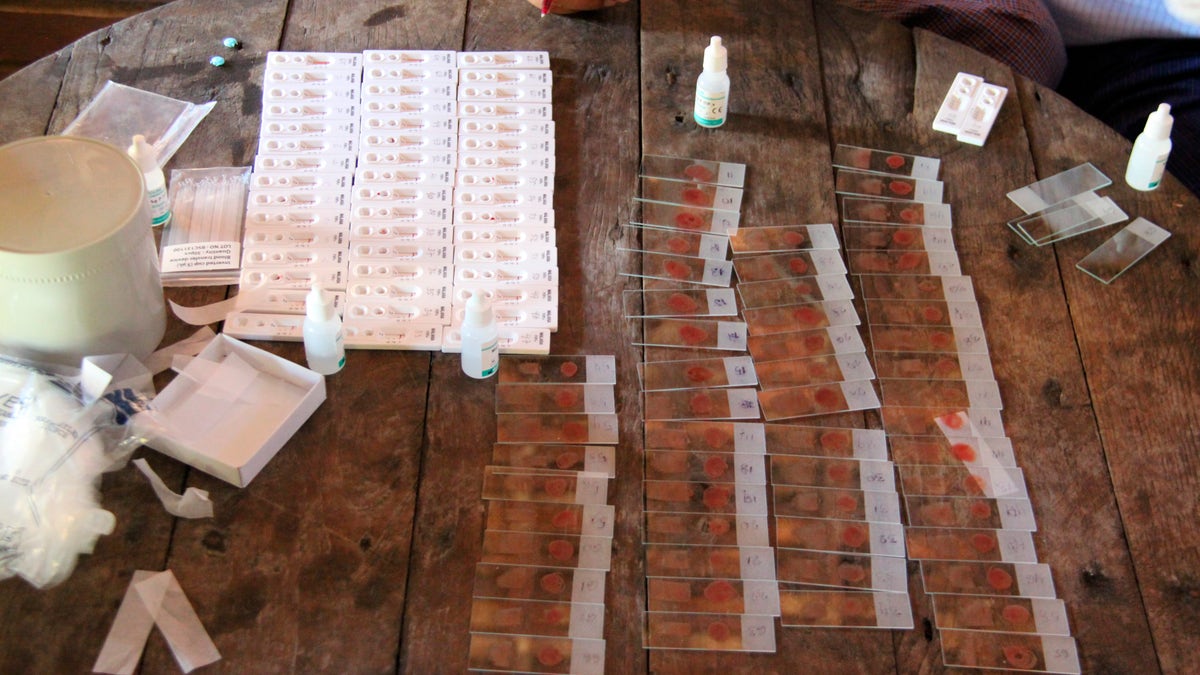 Mosquitoes are rapidly developing resistance to insecticides used in bed nets that millions of people rely on to protect them from malaria, experts say.
Scientists are racing to develop new insecticides, warning that tens of thousands of people in Africa could die every year if mosquitoes develop full resistance before replacements are found.
The issue will be a concern when the World Health Assembly meets in Geneva next month to look at proposals to eliminate malaria in 35 countries by 2030.
An estimated 4.3 million deaths have been prevented since 2000, many of them because of the mass distribution of treated bed nets in Africa, according to Roll Back Malaria, a partnership including the World Health Organization, UNICEF and World Bank.
"Only one class of chemicals is registered and works in bed nets. It's a unique chemistry and it's very hard to replace," said Nick Hamon, CEO of IVCC, a UK-based charity working with agro-chemical companies to develop new insecticides against mosquitoes.
The chemicals currently used are extremely safe for humans, are absorbed through the insects' feet -- they do not have to be eaten -- and kill them within minutes. They also last for several years on the nets and are affordable.
A lot of hopes are pinned on three new chemicals which IVCC and its partners are putting into development this year. But even if these succeed, it will take them eight to nine years to reach the market.
Scientists are also looking at insecticides already used in agriculture that may be repurposed for health uses, and which could become available more quickly.
In the meantime, tens of thousands of people may die each year if mosquitoes develop full resistance to the current insecticides, Hamon said.
He said it was a dilemma knowing how much to warn people about the dangers of resistance.
"You've got to shout loudly enough that people go: 'Right we've got to fix it', but you don't want to risk the lives of people, (if health agencies) say: 'What's the point? We'll just shut down all our (bed net) programs'," he said in an interview.
Scientists say even untreated bed nets can play an important role in protecting people from the disease, which kills more than 580,000 people a year.
Treated bed nets were rolled out on a massive scale in Africa in the mid-2000s, with the aim of reaching every person in affected countries, but by the end of the decade scientists realized resistance was becoming a problem.
"If that resistance goes on getting worse then we will get to the point where our treated nets aren't really working much better than untreated nets," said Jo Lines, co-chair of Roll Back Malaria's Vector Control Working Group and a malaria expert at the London School of Hygiene and Tropical Medicine.
Adding insecticides to bed nets doubles their protection, Lines said.
The chemicals going into development this year may create a new generation of insecticides. If two or all three of them are successful and are used in combination, they could become a powerful new weapon, Lines added.
"It would make getting resistance much harder for the insects. Not impossible, but much harder," he said.
EXITING THE ARMS RACE
But experts say the question remains how long it will be before mosquitoes do develop resistance to them.
"We can't keep replacing insecticides every (few) years forever," Lines said.
"In the long run we need an exit from this arms race. Either that, or we need to tone down the (insecticide) coverage."
In agriculture, insecticides are only used in certain areas, slowing down the development of resistance.
But that is more difficult to do in the case of health. One possibility could be to use untreated bed nets in areas with relatively little malaria, and keep the treated ones for areas with high rates of transmission, Lines said.
Other ways to control the disease include releasing genetically modified mosquitoes or sterilized mosquitoes to reduce mosquitoes' ability to breed. This could help stabilizes the situation but is not a long-term solution, Lines said.
Vaccines are another possibility, and the first one may be approved for use in Africa from October.
But any vaccine would have to be highly effective to work in parts of Africa where malaria transmission is very strong, Lines said.
In the long-run, scientists want to find ways both to eliminate malaria in Africa and to prevent it returning.
Regions that have successfully eliminated malaria did so as they developed economically, Lines said.
In Europe, North Africa, North America and, most recently, Sri Lanka, families getting richer, improved health services, and changes in housing and the landscape have played a big part, Lines added.
For example, there is some evidence that having ceilings in houses underneath roofs reduces the risk of malaria. "But do we put that out there? No we don't," he said.
"What we have to do ... is look at things that will be integrated into (everyday) life."