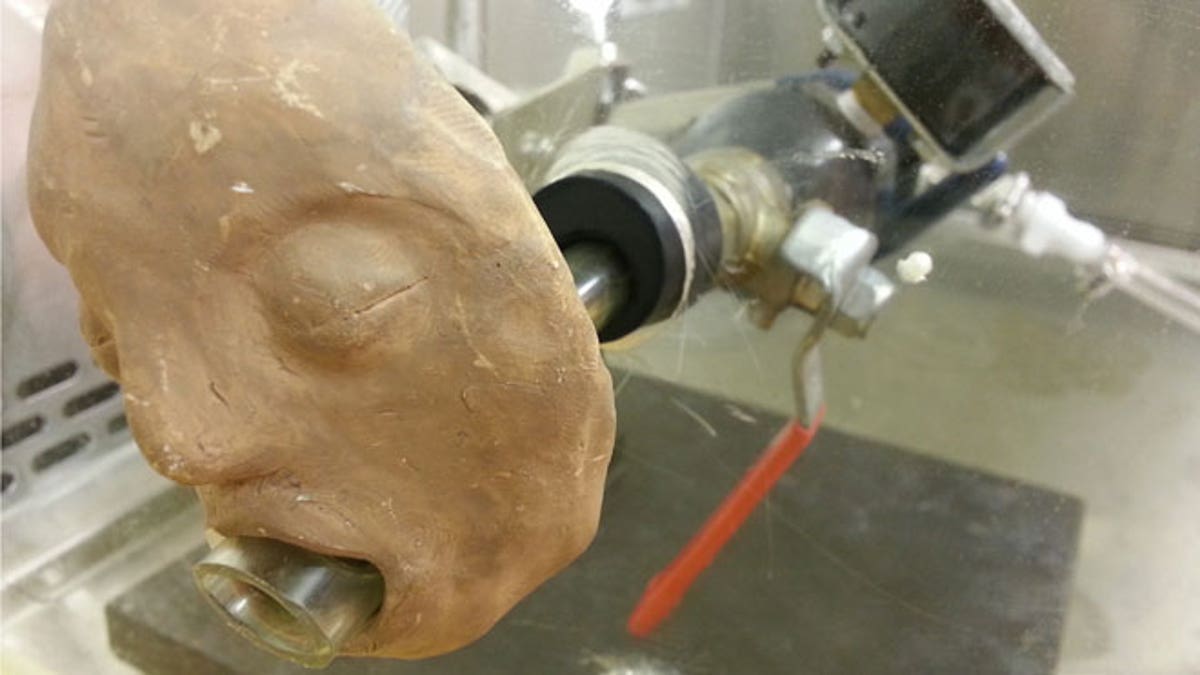 Researchers have used animal models, stem cells and 3-D printing to solve some of science's greatest mysteries. But now, students and professors at North Carolina State University are using a custom-made barfing machine and artificial vomit to study norovirus— one of the biggest public health threats in the country.
Norovirus consists of more than 30 related viruses, and it causes vomiting and diarrhea. The infection affects an estimated 20 million Americans each year and can lead to hospitalization. Among older populations, it can be deadly.
While norovirus can be contracted through contaminated foods or water, most often it is spread from person to person— including through vomit. According to an N.C. State press release, norovirus can be detected in dried vomit for up to six weeks.
"Epidemiological studies have suggested that norovirus can be 'aerosolized' through vomiting, meaning that small particles containing norovirus can become airborne when someone throws up," Grace Thompson, a recent Ph.D. graduate who has studied how norovirus can spread through vomit, said in the news release. Thompson added that if those particles released after an infected person vomits land on a countertop, and a person touches that surface, he or she could also become infected.
To study how and why the virus can aerosolize through vomit, students in the lab of Lee-Ann Jaykus, a food science professor at N.C. State and scientific director of the U.S. Department of Agriculture-National Institute of Food and Agriculture Food Virology Collaborative, including Thompson, created the vomiting machine.
Coordinating with the civil, construction and environmental engineering department at NC State, Jaykus' lab made a replica of the mouth, esophagus and stomach, all of which were scaled down from human size. The contraption consists of tubes and a pressure chamber that circulates through a clay face to accurately mimic how humans vomit, according to the news release. During the study, the device was enclosed in a Plexiglas box and put under a biosafety hood.
Researchers could control the volume and pressure of the artificial vomit, which was made from various liquids to reflect the stages of digestion, and they used a bacteriophage called MS2 in place of norovirus. MS2 poses no risk to human health.
With the help of the machine, Jaykus' lab reported what they say is the first direct evidence that vomiting can aerosolize virus particles similar to human norovirus on Wednesday in the journal PLOS One.
"In terms of overall percentage, not a lot of the virus is aerosolized," co-author Francis de los Reyes III, the professor of civil, construction and environmental engineering at N.C. State who helped Jaykus' team build the vomiting machine using engineering similitude principles to help the device better mimic human behavior, said in a separate news release detailing the team's findings. "But in absolute terms, it is a lot compared to the amount of virus needed to cause infection."
"At most, only 0.02 percent of the total virus in the vomit was aerosolized," Jaykus said in the same news release. "But that can still amount to thousands of virus particles— more than enough to infect other people."
Jaykus noted that her team's findings are significant because it takes less than 20 percent of the total virus to be aerosolized after an infected person vomits for another person to become infected.
"This machine may seem odd, but it's helping us understand a disease that affects millions of people," Jaykus said. "This is work that can help us prevent or contain the spread of norovirus— and there's nothing odd about that."