Santa pays special visit to hospital's tiniest patients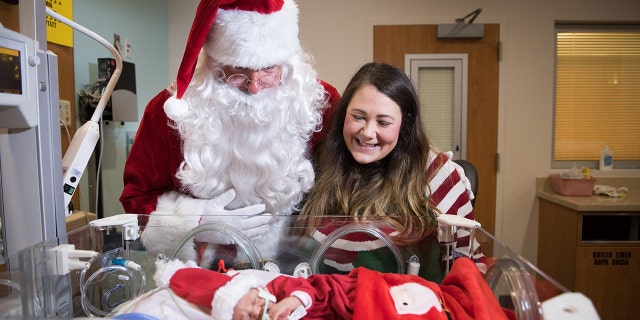 Santa Claus stopped by to visit with a Texas hospital's tiniest patients recently, as staff did their best to help spread holiday cheer. First Memories Texas, a volunteer group that works with families of premature or critically ill children, coordinated the visit with Texas Children's Pavilion for Women's neonatal intensive care unit (NICU).
The visit, which saw the babies dressed in matching Santa garb and hats, helped lift the spirits of concerned parents and relatives who endure the daily stressors of having a child in the NICU.
"It's been difficult," April Neal, whose son Wyatt was born Nov. 8 at just 27 weeks, told InsideEdition.com.
MAKE-A-WISH SENDS 7 KIDS TO MEET STAR WARS STARS AT PREMIERE
Neal compared the emotions of the NICU to being on a rollercoaster, and said that it's difficult since many family members haven't been able to visit with her son. Santa's visit marked the first time that Wyatt had been dressed in clothes since his birth.
"The Santa visit reminded me of the holiday and how special it is to have Wyatt," she told the news outlet.