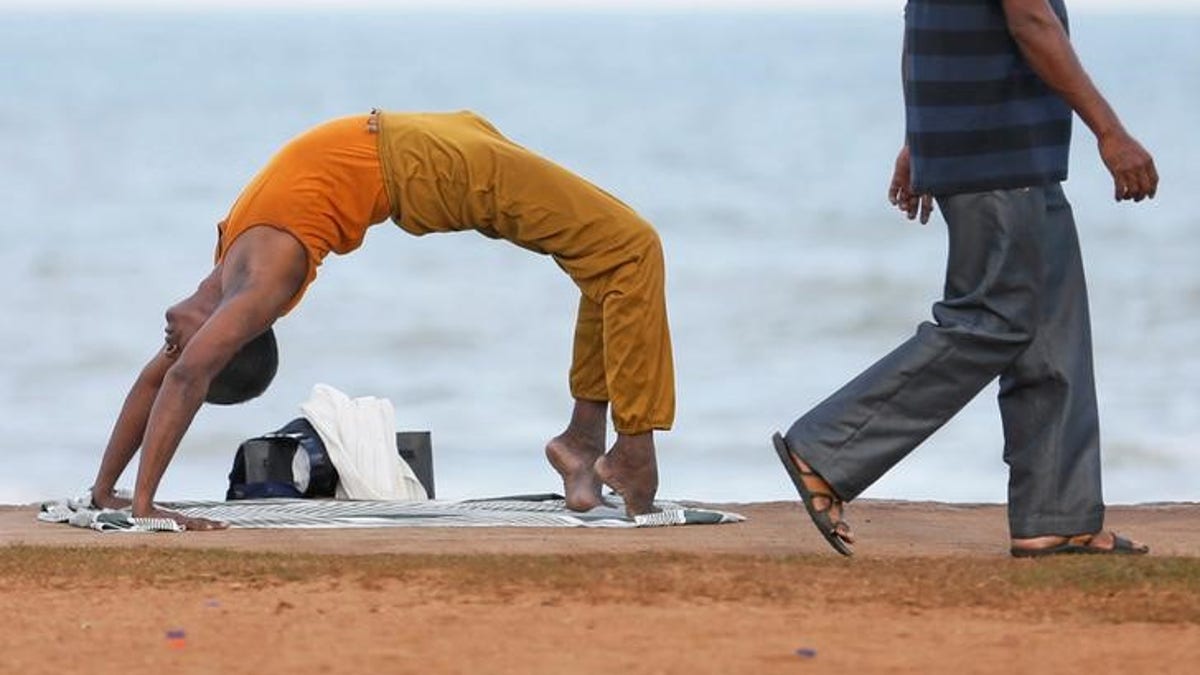 A new review of past research shows limited evidence that yoga may be better than no exercise when it comes to relieving general back pain but little evidence that yoga is better than other types of back exercise.
The analysis of data from a dozen studies, published online by the Cochrane Library, looked at back pain that persisted for at least three months and had an unknown cause. A common problem, such pain is usually treated with self-care and over-the-counter medicines. Doctors often recommend exercise, including the stretching found in yoga.
The research team, led by Susan Wieland of the Center for Integrative Medicine at the University of Maryland School of Medicine in Baltimore, found moderately good evidence that yoga is effective, compared to no exercise, when done for six months. Evidence for a benefit when yoga was done for shorter or longer periods was less convincing.
"It seems yoga is better than not doing exercise and it seems to be effective in making small improvements in pain and small-to-moderate improvements in function," Wieland told Reuters Health by phone. "The jury is still out when it comes to comparing yoga with other exercise."
Five percent of back-pain patients who tried yoga said the technique actually made their symptoms worse. Whether other types of exercise designed to help sore backs are just as likely to aggravate the condition is not known.
"The risks were all mild or transient exacerbations, and that's what you see with exercise generally," Wieland said. "No exercise is completely safe."
There was no good evidence that adding yoga to other exercises for 10 weeks helped either, the researchers concluded.
Even when people reported back pain relief from yoga, it didn't seem to be clinically important. The Wieland team predicted that a 15-point improvement on a 100-point scale would be enough to make a difference in people's lives. "We found it was more like 5 points," Wieland said.
Altogether, the researchers looked at data on 1,080 participants enrolled in seven trials in the U.S., three trials in India, and two in the UK. In each trial, the yoga lessons were specifically designed to help back problems and were conducted by experienced and qualified instructors. Most used Iyengar, Hatha, or Viniyoga forms of yoga, the researchers said. One problem with the trials: the people involved knew that treatment they were getting, which can bias the results.
One study was financed by a yoga institution; three did not report a funding sources.
The analysis looked at evidence published through March 2016. The Cochrane Collaboration, an international not-for-profit organization that evaluates and reviews medical research, periodically updates its findings as new results come in. Wieland said five additional studies that have been completed or are underway should be incorporated into a new review in about a year.
For now, "the lesson for consumers is, if you have chronic low back pain and you're interested in trying yoga, and your doctor agrees, it's worth a try," she said. "But be sure you're attending a yoga class where the yoga is designed to be helpful and safe for people with back issues. And make sure your teacher is well trained. It will minimize your chances of injury and maximize your chances of seeing a benefit."