Retired soccer star shares first selfie post-brain surgery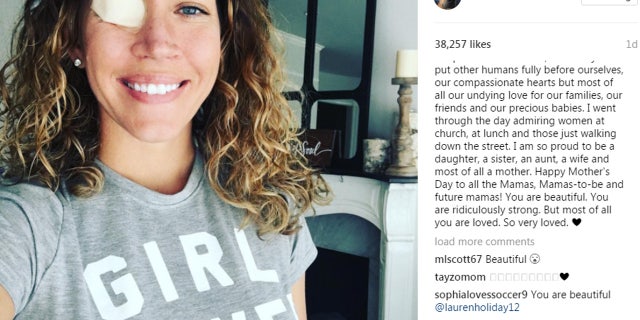 A retired U.S. women's soccer star has shared her first selfie seven months after undergoing brain surgery for a tumor that doctors discovered while she was pregnant.
"I have been hiding myself from a camera for the past 7 months," Lauren Holiday, 29, wrote in a May 14 Instagram post. "I didn't want anyone to see my paralyzed face, my eye that is not crossed, the bald spots from radiation & my half shaved head."
Holiday, who is grinning and wearing a shirt emblazoned with "Girl Power" on it in the photo, had retired from soccer last year to concentrate on starting a family with her husband, Jrue Holiday, a professional basketball player on the New Orleans Pelicans. She was six months pregnant when she was diagnosed with the brain tumor and later gave birth to daughter Jrue Tyler Holiday in September. She underwent surgery to remove the tumor in October.
"Granted you can't see any of those things in this picture, just a patch…it's a huge step," she continued in the Instagram post. "Today reminded me just how incredibly strong women are. The resilience of our bodies, the power of our minds, the ability to put other humans fully before ourselves, our compassionate hearts but most of all our undying love for our families, our friends and our precious babies."
FLASHBACK: LAUREN HOLIDAY OPENS UP ABOUT HEALTH SCARE DURING PREGNANCY
The post was timed to Mother's Day, which was Holiday's first as a new mother. In February she had opened up to her followers about the fears she had while pregnant with Jrue. Her husband had taken a leave of absence from the New Orleans Pelicans to be by her side while doctors at Duke University Hospital removed the tumor and has since returned to the team.
"I went through the day admiring women at church, at lunch and those just walking down the street," she wrote in Sunday's post. "I am so proud to be a daughter, a sister, an aunt, a wife and most of all a mother."
Holiday was a member of the 2012 and 2008 U.S. Olympic gold medal teams, and her post had received more than 38,250 likes as of Tuesday.