Popular breakfast foods contain active ingredient found in Roundup weed killer, study finds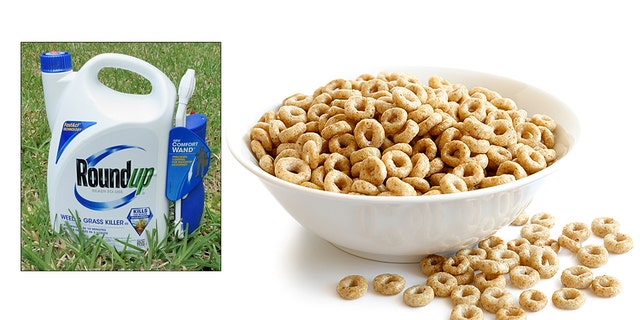 At least 28 samples of popular oat-based cereals and snack bars made by popular household names — General Mills and Quaker — contained glyphosate, an active ingredient used in Monsanto's Roundup weed killer, the Environmental Working Group (EWG) discovered in a new study released this week.
The EWG, a nonprofit advocacy group, said Wednesday it "detected glyphosate in all 28 samples of products made with conventionally grown oats," noting all but two of the 28 samples tested "had levels of glyphosate above EWG's health benchmark of 160 parts per billion, or ppb."
Out of the 28 products tested, Quaker Oatmeal Squares breakfast cereal had the highest level of the herbicide, which the advocacy group said was "nearly 18 times higher than EWG's children's health benchmark."
NEWBORN CONTRACTED FATAL HERPES VIRUS FROM KISS, MOM WARNS
That said, it's important to note the levels of glyphosate found in the products — which include Quaker Instant Oatmeals Apples & Cinnamon, Quaker Breakfast Squares Soft Baked Bars Peanut Butter and a variety of Cheerios flavors, such as Chocolate, Apple Cinnamon and Very Berry, among others — were within acceptable limits, as dictated by the the U.S. Environmental Protection Agency and the U.S. Food and Drug Administration, CBS News reported.
"But just because something is legal doesn't mean it's safe," the EWG argued. "Federal government standards for pesticides in food are often outdated, not based on the best and most current science. The EPA's standards for pesticides and other chemicals are also heavily influenced by lobbying from industry."
The findings come after the EWG announced in August it found trace amounts of the ingredient in "all but two of 45 samples of products made with conventionally grown oats," the organization said at the time. Some of the items included Quaker Old Fashioned Oats and popular breakfast cereals made by General Mills, such as Cheerios and Lucky Charms.
The World Health Organization, in a 2015 report, said the herbicide glyphosate, along with insecticides malathion and diazinon, are "probably carcinogenic to humans," adding there was "limited evidence of carcinogenicity in humans for non-Hodgkin lymphoma and prostate cancer" for malathion. "Limited evidence," in reference to the World Health Organization's report, means researchers have determined there is a "positive association" between exposure to glyphosate and cancer, but said, "other explanations for the observations (called chance, bias, or confounding) could not be ruled out."
In 2017, the California Office of Environmental Health Hazard Assessment announced glyphosate "would be added to the list of chemicals known to the state to cause cancer."
However, following the August report, many health professionals said consumers should remain calm and encouraged more research before cutting out some of these popular foods.
"Whenever you see a one-off article like that, you have to do more investigation," Scott Goldstein, a pediatrician at the Northwestern Children's Practice, told the Chicago Tribune at the time.
"When the EPA or the American Academy of Pediatrics, or Centers for Disease Control talks about taking away Cheerios, then my ears would perk up," he added.
Paul Pharoah, a professor of cancer epidemiology at the University of Cambridge in Britain, previously told NBC News evidence suggesting glyphosate raises the chances of developing non-Hodgkin lymphoma is "very weak."
In August, both General Mills and the Quaker Oats Company responded to the findings by saying the "levels of glyphosate remain within the regulatory levels set by the Environmental Protection Agency," EWG wrote in a statement at the time.
Both companies echoed these sentiments in statements to Fox News on Thursday.
"We proudly stand by the safety and quality of our Quaker products," a Quaker spokesperson said in a statement in reference the findings released this week. The spokesperson added the company does not "add glyphosate during any part of the milling process" and noted the herbicide is commonly used by farmers prior to harvest.
"Once the oats are transported to us, we put them through our rigorous process that thoroughly cleanses them (de-hulling, cleaning, roasting and flaking)," the spokesperson said. "Any minimal levels of glyphosate that may remain in finished products where oats are an ingredient are significantly below regulatory limits and well within compliance of the safety standards set by the Environmental Protection Agency (EPA), the California Office of Environmental Health Hazard Assessment, Health Canada and the European Food Safety Authority (EFSA) as safe for human consumption."
TANNING HABIT LEFT MOM WITH HOLE IN FACE AFTER SKIN CANCER DIAGNOSIS
"We believe EWG's approach is invalid, and we stand behind our statement that the Quaker products tested by EWG are safe. Producing healthy, wholesome food is Quaker's number one priority, and we've been doing that for more than 140 years."
A General Mills spokesperson said in a statement the company's "top priority is food safety and has been for over 150 years," copying Quaker in saying glyphosate is commonly used by farmers.
"The extremely low levels of pesticide residue cited in recent news reports is a tiny fraction of the amount that the government allows. Consumers are regularly bombarded with alarming headlines, but rarely have the time to weigh the information for themselves," the statement continued.