Photo of newborn surrounded by IVF syringes goes viral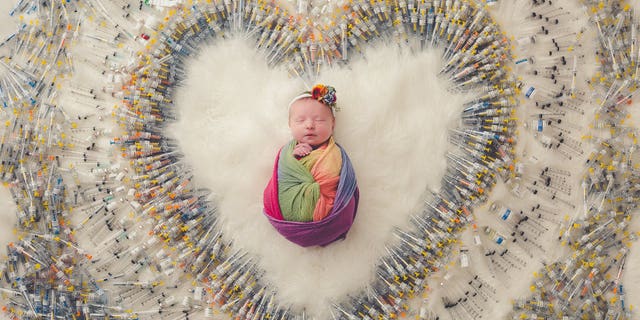 An Arizona photographer's image showing a newborn surrounded by in vitro fertilization syringes, illustrating the hardship one woman underwent to become a mom, has gone viral.
The photographer, Samantha Packer, of Packer Family Photography, snapped the photo earlier this month. As of Friday afternoon, the image had more than 50,000 shares and nearly 70,000 reactions.
POPULAR BABY FOODS CONTAIN 'WORRISOME LEVELS' OF HEAVY METALS, STUDY FINDS
"I did not expect the attention," Packer told Fox News. "I knew it was something special, just not to the whole world."
Packer, of Glendale, said she took the photo for a new mother who has spent years attempting to get pregnant. She did not identify the child or the mother.
"Mom said, '4 years, 7 attempts, 3 miscarriages and 1,616 shots'" Packer wrote in the post.
"It wasn't my idea to use the needles. The mother said she would like to incorporate them somehow, but didn't know what to do," Packer said, adding that she was told she had "creative freedom" for the project and "decided to do the heart."
PLASTIC CONTAINERS POSE HEALTH RISKS FOR CHILDREN, PEDIATRICIANS WARN
"I wanted it to be very organized and beautiful," she added.
"I knew when I looked at the back of the camera that [the image] was something special," she continued. "I definitely felt like it captured their journey and we were all tearing up as the photo was being taken."