Pepperidge Farm recalls Goldfish cracker varieties due to possible salmonella contamination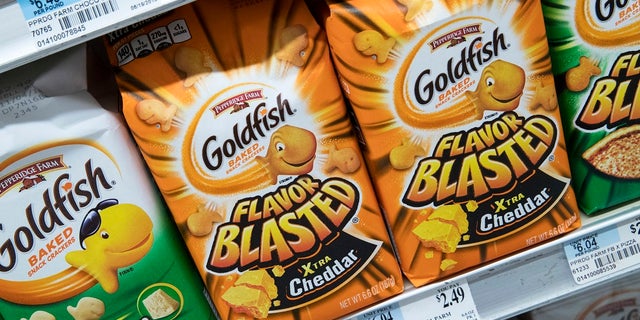 Pepperidge Farm has announced it has volunarily recalled four varieties of Goldfish crackers over concerns the snacks could potentially carry salmonella.
The company said the affected crackers are: Flavor Blasted Xtra Cheddar, Flavor Blasted Sour Cream & Onion, Goldfish Baked with Whole Grain Xtra Cheddar and Goldfish Mix Xtra Cheddar + Pretzel.
WAITER WHO FAKED 'RACIST' RECEIPT THE LATEST TO USE SHOCKING CLAIMS TO GET FACEBOOK LOVE
The recall was due to whey powder found in the four products that had been "the subject of a recall by the whey powder manufacturer due to the potential presence of Salmonella," Pepperidge Farm said in a statement.
The company said no illnesses have been reported and the products were distributed in the U.S.
Pepperidge Farm asked customers not to eat the crackers if they have the product. The company is also offering reimbursements on its website to those who purchased them.
TRESPASSING TEENS FLOOD ILLINOIS RESTAURANT WITH BEER, OWNER CLAIMS
Goldfish crackers are not the only snack food to be recalled over salmonella fears recently.
Some Ritz Cracker varieties were also recalled Saturday due to a potential presence of salmonella. Kellogg's recalled the cereal Honey Smacks earlier this month after it was linked to a salmonella outbreak in 31 states, affecting about 100 people; the Centers for Disease Control and Prevention warned consumers to avoid the cereal.
The Associated Press contributed to this report.