Patients, donors in 3-hospital kidney swap meet in Detroit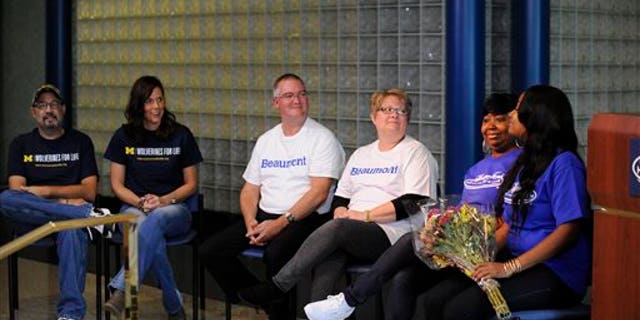 It was a donation chain linking three patients from three Michigan hospitals to three strangers willing to give them working kidneys.
The surgery involved three people who wanted to give kidneys to loved ones but weren't matches for them. Instead, each was compatible to other patients through a pair kidney donation program.
The donors were a husband who wanted to give a kidney to his wife at Beaumont Hospital in Royal Oak; a friend who wanted to help her buddy at the University of Michigan Medical Center in Ann Arbor; and a daughter who wanted to help save her mother's life at Henry Ford Hospital in Detroit.
The donors and patients met for the first time Thursday at Henry Ford Health System in Detroit. The meeting came three months after successful transplants July 22.
Kim Yarbrough, 52, of Detroit, praised her adult daughter, Markeshia Valentine, who donated her kidney as part of the program.
"Without her, I couldn't even begin to get in the program," Yarbrough said. "And the individual who gave me the kidney is also my hero. And I just really, really feel so blessed."
Valentine's kidney went to a woman at Beaumont Hospital, north of Detroit. Yarbrough received a kidney from a donor at the University of Michigan Medical Center.
A donor kidney from Beaumont was sent to Ann Arbor for a patient at the University of Michigan.
"Paired kidney donation can shave months off the wait list for patients," said Dr. Lauren Malinzak, transplant surgeon and paired donation program director at Henry Ford. "And with the crucial need for donor kidneys, it can provide life-saving options."