Parents surprise autistic son with at-home Blockbuster after favorite store closes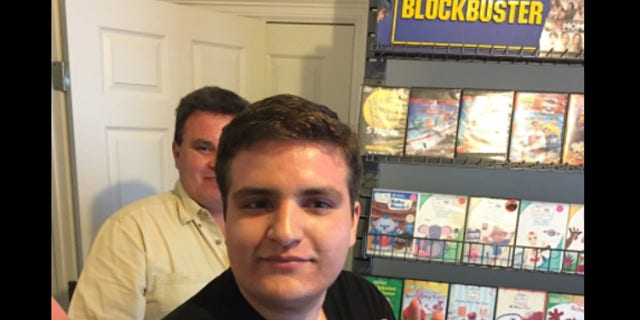 When a 20-year-old man with autism discovered his favorite Blockbuster store was closing, his parents took matters into their own hands. Hector Zuniga's parents purchased materials from the soon-to-be shuttered store and built him his very own Blockbuster in their living room.
Zuniga, of Sharyland, Texas, had gotten into the routine of visiting the store twice a week to rent his favorite movies. His father, Hector Zuniga Sr., brought him to the store for closure on April 23, and when they got home, he walked into his living room to find his very own Blockbuster display case full of his favorite DVDs.
"My son was pointing at the [shelf of movies], and his eyes were big and round," Zuniga Sr., told CBS DFW. "It was almost as if was afraid to touch it because he thought he was imaging things."
Once reality set in, Hector began rearranging the movies from memory to match the display in his beloved store.
FAMILY LEFT REELING OVER 10-YEAR-OLD'S GRIM PROGNOSIS RAISING $200G FOR TREATMENT
His younger brother, Javier, captured the special moment and shared it with his Twitter followers. As of Friday morning, it had been retweeted 35,000 times and received more than 132,000 favorites.
"It wasn't my wife and I, we didn't really do much," Zuniga Sr., told CBS DFW. "We just did what we felt was necessary. But the takeaway here is that his baby brother is so happy and he loves his older brother. He tweeted it because he's proud of his older brother, he's proud of his autism, he's proud to have him in his life. And he just put it out there and it took on a life of his own."