Parents of Boy Who Died Seek Routine Screening for Sudden Death Syndrome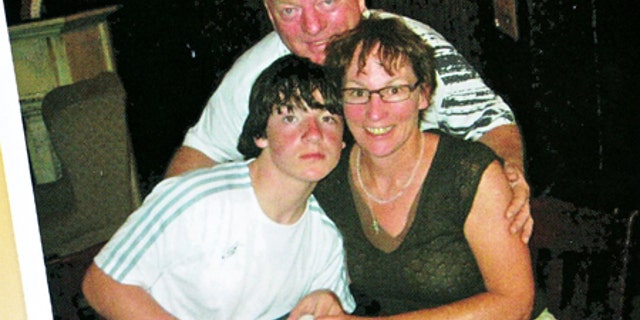 As millions of teenagers get ready to go back to school this month, Jim and Sheila Fisher are urging parents to be extra vigilant when setting up their children's school or athletic physicals.
Two years ago, the Fishers' son, Sean, died suddenly of hypertrophic cardiomyopathy, or HCM, an abnormal thickening of the heart's walls.
Sometimes referred to as sudden death syndrome, the genetic condition often goes undiagnosed because most people who have it lead normal lives without signs or symptoms. For some patients, the first symptom literally is death.
Sean died during football practice, on his 13th birthday.
"We had no clue that he had this," Sheila Fisher, who lives in Waldwick, N.J., said of his heart condition. "We do not carry the gene, nor does anyone in the family that we know of."
She said she lives every day of her life with the question "What if?" swirling through her head.
"I know there's absolutely nothing we could've done short of having him screened," she said. "He was the picture of perfect health."
VIDEO: Dying Young
Dr. Robert Tozzi, chief of pediatric cardiology at Hackensack University Medical Center in New Jersey and Director of the Gregory M. Hirsch Center for Hypertrophic Cardiomyopathy, said approximately one in 500 people carries the HCM gene, and the disease usually presents itself between the ages of 12 and 18.
"That's why we screen that group, because the disease seems to come out aggressively in that time period," Tozzi said. "So the child could be fine during their freshman year, but by their senior year the disease could establish itself. It's a sneaky disease."
The most accurate way to screen for the disease is by using an ultrasound and/or an electrocardiogram (ECG).
"In general, the bigger your heart is, the more irritable it is, the more likely it is to have an arrhythmia, and that pretty much holds across boundaries," Tozzi said. "So the thickening of your heart puts you at increased risk of developing fatal arrhythmia."
If caught early enough, HCM can be treated effectively with medication, an internal cardiac defibrillator or surgery to remove the excess tissue, allowing the patient a chance at a long and healthy life. But screening for HCM is not part of the standard physical exam given by most pediatricians and school medical offices in the United States. And one of the reasons may be cost.
But that's something the Fishers are working hard to change. They started a foundation in memory of Sean, and along with the Gregory M. Hirsch Foundation, they raised enough money to pay for freshman screening at Waldwick High School — where Sean would have been in ninth grade last year.
Out of 100 students, 62 signed up for the screening, and two students found out they had the condition, Sheila said.
"What are those odds like?" she said. "We want to test the world if you want to know the truth. Sean was the picture of perfect health. The physicals they do on children are ridiculous."
Tozzi and his staff at Hackensack performed the free screenings at Waldwick High School in April – something he hopes will serve as a model for other communities to follow suit.
"The answer to the problem of who gets screened and who doesn't get screened, I think, has been answered now," Tozzi said. "We can screen all our children, both with EKG and echocardiogram and reduce the chances of them dying suddenly by 70 percent — and this is our initiative — awareness, education and identification."
Tozzi said a typical HCM screening is approximately $1,400, but he believes schools across the country can screen children for as little as $250 per person with the help of philanthropies, which is what it cost to screen the freshman at Waldwick.
Dr. Merle Myerson, a cardiologist at St. Luke's-Roosevelt Hospital in New York City, said athletic physicals are the best time for parents and students to screen for the disease.
Although HCM can kill at any time, exercise puts added stress on a heart with HCM, Myerson said.
"There are five million competitive athletes at the high school level," said Myerson, who is also director of St. Luke's Cardiovascular Disease Prevention and Pre-Exercise Heart Screening Program.
"One in 200,000 athletes will die suddenly and 30 to 40 percent of them have hypertrophic cardiomyopathy," Myerson said. "Even if you say that's a low number – what if it's your child?"
She urges parents to take an active interest in their students' athletic program and to ask questions such as:
— Who is screening the athletes? Is it a licensed health care practitioner?
— What kinds of questions are the athletes being asked? (For example, has the athlete ever fainted? Has the athlete's sibling ever fainted? Have you ever been told you have a heart murmur? Do you ever feel chest pain?)
"As it happens, there is no national high school mandated protocol," Myerson said. "Each state high school federation has their own set of guidelines, despite many medical associations issuing guidelines. There is a tremendous amount of variability in each state's protocol of screening."
Myerson pointed to Italy, where it is mandatory that athletes get an echocardiogram before they are allowed on the athletic field.
"This is where many abnormalities are picked up," she said. "Now there's a big controversy in this country because (this kind of testing) costs more, and you could have a false-positive, but I think the ECG is non-invasive and relatively inexpensive – so it's worth it in my opinion."
FoxNews.com's Jessica Mulvihill contributed to this article.