Parents desperate for surgery on newborn son nicknamed 'werewolf'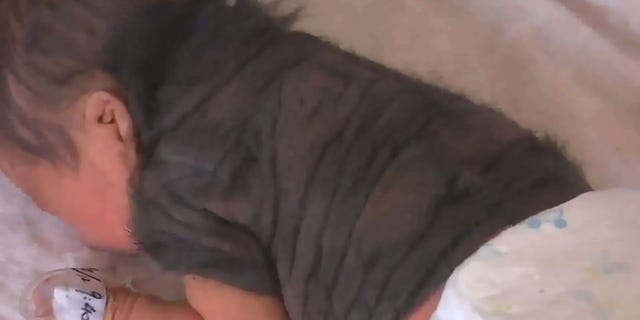 The parents of an ailing newborn whose hairy mole has earned him the nickname "werewolf" said they will do anything to have it removed from his back. The baby, who has not been named, was born in a Yongzhou City hospital in Central China's Hunan Province, Asia Wire reports.
Doctors told the child's father that the birthmark— which covers the infant's entire back and has been linked to skin cancers— is called congenital melanocytic nevus and affects 1 percent of infants worldwide, the report stated. His doctor Liu Lingping informed the family that the child would need to be cared for by a specialist.
"We don't have a history of the condition in our family," Ouyang Huoliang, the child's father, told Asia Wire.
Doctors reportedly told the family the mass can be removed with laser surgery— albeit at a high cost.
"But a life is a life," Huoliang told Asia Wire. "We will cherish him and do everything we can to save him."